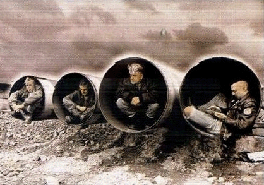 > Discography
------------------------------------
EP, Albums and live recordings
1987 - Skitzo Mania LP/CD
1987 - Sick Sick Sick (12 inch and CD. Split with Demented Are Go and Coffin Nails)
1988 - Terminal Damage LP/CD
1995 - The Glove (4 song 7 inch EP)
1997 - Vertigo CD

Compilations
1988 - Zorch Factor 2 LP (Compilation)
1988 - Zorch Factor 3 LP (Compilation)
1988 - Stomping At The Klub Foot Vol 5 LP/CD (Compilation)
1994 - Rumble Party Vol 2 (Compilation)
1994 - Psychobilly Sampler CD (Compilation)
1995 - Rumble Party Vol 3 LP (Compilation)
1996 - Psychobilly Sampler Vol 2 CD (Compilation)
1996 - Rumble Party Vol 4 CD (Compilation)

Video
1987 - Go Skitzo
1988 - Terminal Damage Live (Video of Birmingham Fest. 1988)
1988 - Night Of The Long Knives (Video compilation of Birmingham Fest.)
SKITZO were formed in London, England in early 1985.
Briefly known as "The ELECTROS", Phil and Rod Connor roped in a couple of friends with the idea of forming a band. Whilst working a stall in Peckham Market, Phil found Mac and Tony in a second hand shop, songs were written, and gigs arranged. Rod was replaced on drums by Steve Tomlinson, due to an accident which left Rod unable to play for a long time. After Steve had rehearsed the parts for the songs, a demo was recorded. After finding management in the shape of Owen Davies, they played their first gigs, building up a firm based around Kent and South London.Unfortunately, Tony got into a bit of trouble, and was in prison for 6 months. Undeterred by this setback, tapes were sent to and from the prison for Tony to learn new material, and they played their next gig (Churchills, Chatham) the same day he was released. At this point, it was decided to change the name of the band to SKITZO. Rod had recovered by this point, and played drums for the support act. The next day, they supported the Meteors at the "Cricketers" in London. After a while, they were offered a gig at the famous "Clarendon" pub, home of the Klub Foot. Then the Klub Foot. Then another. Then another. Their popularity was on the increase. Roy Williams from NERVOUS RECORDS saw them, and was so impressed, he offered them a record deal on the spot.SKITZO MANIA was released on an unsuspecting public in 1987, and sold very well. They did their first gig abroad, in Hamburg, Germany, where the album was apparently number one seller in the local independant record shops.

Shortly afterwards, Steve left the band and was replaced by "STRUT". He brought a much heavier sound to the group, mostly because he had a full drumkit (rather than Steves "Stand up" setup), and hit it HARD. Many long nights were spent in the basement of Clockwells studio in Peckham, getting the sound just right. After the album had been out quite a while, SKITZO were asked to be on the bill at a "Stomping At The Klub Foot" recording. The guitarist "Mac" was very nervous, and got very drunk before he went on. The gig was an absolute disaster, and a huge argument broke out within minutes of leaving the stage. Things were sorted out, but then Mac left the band for personal reasons. An audition was held for a new guitarist, and Pete got the job, with only 3 days notice before the next gig. He had been following SKITZO since the early days and the band didn't even know he played until he grabbed a guitar at a party one night and played some SKITZO stuff.After the already-booked shows had been played, work began on the second album "TERMINAL DAMAGE".

TERMINAL DAMAGE was a radical step foward from the first LP
SKITZO was now comprised of: Phil (vocals), Tony (Bass), Strut (Drums) and Pete (Guitar). Four musicians who could really play hard, and had some new ideas. A few of the songs for "TERMINAL DAMAGE" were already written at that time, but Phil and Pete spent several long nights in Phils kitchen, hammering out new ideas. The band wanted to take the sound a step further and heavy it up a bit. The new lineup was perfect for this, as Strut and Pete were into Punk and Hardcore as well as Garage/Trash and Rockabilly stuff, and this was exactly what they were looking for at the time. A tour was booked, and things went really well for a year or so, as they polished up the live performances all over Europe. Due to the heavier nature of the bands new sound (and years of his famous screaming in between verses), Phil decided to take a break from Skitzo in the summer of 1989, as he wanted to ease off on his voice, and concentrate on his Rockabilly splinter groups "The Gamma Rays" and "Rabbit Action" (featuring John O'Malley from The Nitros, Mickey "Batz" Wigfall on Bass, and Paul Moxon on drums).

SKITZO carried on with Tony switching to vocals, and a new bass player, Justin. This added Electric bass to the bands sound, and consequently made it even heavier. By now, Skitzo were sounding more a Punk band than anything else. They changed their name to "SKITZOMANIAX" to avoid confusion with the traditional psychobilly crowd. Tony left the band in December 1989, leaving Pete stranded on vocals for a couple of shows. Strut emigrated to Sweden in the summer of 1990. Scott was drafted in on drums, and after a couple of rehearsals with the new lineup, the band decided to call it a day at the "Hemsby Weekender" in October 1990. The band weren't keen to play with what was effectively a "temporary" lineup, but simply couldn't pull out of the festival due to the number of people attending.
During the demise of the original band, it is worthy of note that all the members stayed friends throughout.

Rumors abounded that SKITZO were going to get back together, but nothing was planned. However, pressure from promoters both in England and the rest of Europe made the boys think long and hard about doing a re-union show, their main worry being Phils already strained voice. Phone calls were made over Christmas 1993, to try and arrange a reunion gig to satisfy the fans who missed the old Skitzo. Rod re-joined the band on drums, and the musical direction of the band changed back to the mid 80s style of the 1st album (after protestation from Phil), and the first "Real" Skitzo show in 5 years was played at the Big Rumble festival in Yarmouth, November 1994. 2 all-new songs "Misery" and "Deep River" were released as part of the "Rumble Party" Souvenir LP.
Phil had by now decided to carry on with the vocal duties, on the condition things were toned down a little. and it was mutually decided to get Skitzo back together again for a while.They began to be re-discovered by the old school Psychobillies, and discovered by a newer crowd, and a 4 song, 7 inch EP called "The Glove" was recorded in August 1995. This is considered by many to be their best work, raw as hell with loads of energy and 4 killer songs! A couple of European gigs, and a Christmas show in Leicester confirmed the new-found popularity of the band amongst fans, old and new.

1996 saw the boys working on songs for a new album, titled "Vertigo". Demo versions of the songs had been recorded at Mickey Wigfall's luxurious 8 track facility in Greenford, and the band were now itching to get into a recording studio and record these songs for release on CD. The album was underfunded and consequently rushed, the artwork got messed up, the wrong disk of the lyric insert was sent out to the company, and the band had 3 days to record and mix the album at a smelly 16 track studio in Park Royal. Total budget was about 450 pounds, I think the boys did very well under the circumstances, but it has been said that the demo versions recorded were better than the released album :-)
Rumours of the bands demise, various reformations, deaths and whatnot have circulated ever since the release of the Vertigo album. A few shows were played in support of "Vertigo", including one of their all time favourites, a midnight appearance at "Le Grand Duc" in Apremont, France after a hellish trip involving missed ferries, floods and roadworks. The night was electric, the band were absolutely on fire, and the crowd went really really mental. Proper Skitzo!

SKITZO played their final show at the "Flint Cottage" in High Wycombe in 1997, and have no plans to reform.

From the band's official bio on myspace.