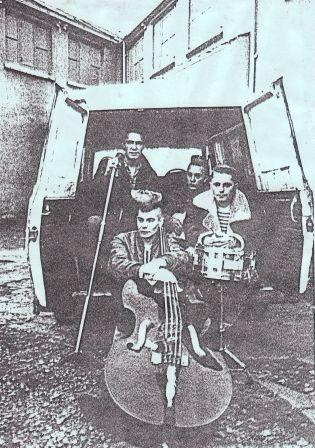 > Band members
------------------------------------
Dale Williams - Vocals
Paul Oxley - Double bass
Shaun Williams - Drums
Billy Oxley - Guitars
also at one time or another
Nev Preston - Double bass
Charly Fallensteller - Double bass
Dave Bradbury - Double bass
Pete O'Brien - Double bass
Shaggy - Double bass
Chris Skinner - Guitar

> Discography
------------------------------------
-Hellraisers - [1989]
Link records
Reissued on Cd by Anagram in 2006 with one bonus track (cdmpsycho44)
-Live & Rockin [1990]
Link records
-Going Strong [1991]
Tombstone-3 tracks single [1993?]
?
-The Return of the Radiacs [2010]
Raucous
The Radiacs form in 1986 by Dale and Shaun Williams and Billy and Paul Oxley.
Originally called The Epileptic Hillbillys (no release under this name to my knowledge), they rename the band The Radiacs in early '87. They were the only psychobilly band based in the "steel city" of Sheffield at that time.
Most of their early gigs were at the Take Two club and other venues in Sheffield, and a strong following was gained as they played support slots to all the major players on the Psychobilly scene including The Meteors, Demented Are Go, Frenzy, Batmobile, Guana Batz, Krewmen and Coffin Nails.
In 1989 they are asked to record for Link Records and the debut album "Hellraiser" is released. "Hellraiser" contains a few good songs but suffers from a poor production and also have a couple of fillers that make you think that a mini album would have been a better choice.
After that they appear on the live albums "Rockin' At Take Two Volumes 1 & 2", and their own live album "Live & Rockin'" is also issued on the Link label. This one features Nev Preston on bass, Paul having joined the Krewmen.
Many more gigs follow and 1991 sees the release of their second LP "Going Strong" on Tombstone Records. It benefits of a more experienced band and the presence of Charly Fallensteller (Scum Rats) on double bass.
The band keeps on touring Europe with revolving line-up (including member of the Hangmen and also Dave Razorback later of the Blue Devils with Billy Oxley). They then release a three track single (It´s my Life / Wouldn´t do anything (to hurt you baby) / (She's My) Turtle Dove) with Chris "Snakebite" Skinner on guitar and Pete O'Brien from the Hicksville Bombers on bass. This line up record a total of 13 tracks for an album that never saw the light of day because the Radiacs ultimately split sometimes in the mid 90's.
Around 2008, the idea to re-form the original Radiacs starts to germ, but after some times it appears that the problems that made them split the first time are still present. So Dale and Shaun recruit Chris Skinner, an obvious choice, and Shaggy who played with Shaun in numerous combos with Shaun over the last 10 years.
2010 sees the release on Raucous of The Return Of The Radiacs, with four new songs and the three tracks from the now rare and out of print single.

If you have more infos about this combo write us at fred[at]jumpingfrom6to6.com