> Band members
------------------------------------
Artur "Spike" Gramm - Vocals / guitar
Dennis "the Tongue" Sauter - Double bass
Hagen "the Pagan" Offterdinger - Drums

> Discography
------------------------------------
-The First Kick - [2005]
Cherokee records

-Road From Hell [2009]
TCY Records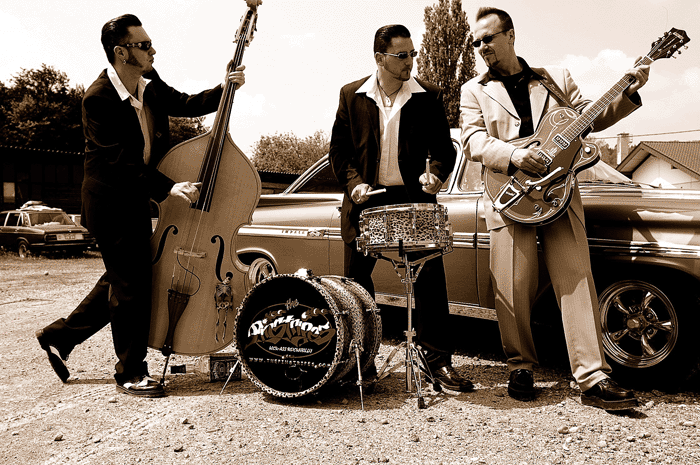 A long-standing friendship and various mutual musical projects in the past have joined together the three members of this Neo Rockabilly band who come from the South of Germany and have played together since 2001.
Headed by the lead singer and lead guitarist "Spike" Gramm, who composes most of the band's original material, the trio is completed by Hagen "the Pagan" Offterdinger on stand up drums and Dennis "the Tongue" Sauter on double bass.
In the past few years, the Pinstripes have appeared at numerous major Rockabilly festivals such as the Walldorf Weekender or the Brandenburg Festival, and have played a whole heap of gigs in clubs all over Germany, thus acquiring an ever growing fan base. They have shared the stage with well-known Rock 'n' Roll and Rockabilly artists such as Bill Haley's Comets, Paul Ansell's Number Nine, Restless, Mad Sin, Mad Heads, Evil Devil, Billy Lee Riley, Go getters, Boppin´B, to name just a few. And not least because of their wild stage show the Pinstripes are also a frequently booked act for popular commercial events. In 2004, for instance, they supported "Juli", one of Germany's chart toppers, at major festivals. And in December 2005 the band had the opportunity to present some songs of their new CD on the occasion of a national handball league event before an audience of more than 6000 people.

Their first album "The first kick" was released in 2005 and contains – apart from some versions of well-known Rock 'n' Roll songs from the late 50s / early 60s such as "Please Don't Touch" by Johnny Kidd or "Funnel of Love", which is best known in the version by Wanda Jackson – mainly original material composed by the lead singer, Artur Gramm. The songs are characterized by fast drum beats, a pounding bass and frenetic guitar riffs, and cover the whole range of modern Rockabilly. Swinging, melodious tunes such as "I Don't Want You" round off the musical repertoire, adding some interesting counterpoints. The selection is completed by adaptations of songs from other areas of Rock Music such as "Voodoo Chile" by Jimmy Hendrix and "Ace of Spades" by Motorhead.

Their second release was "Road from hell" in 2009 and feature 14 new tracks.With their newest album "Road from hell ", which is available since 18 July 2009 under TCY records with 14 new tracks, the Pinstripes are on tour through completely Germany They toured heavily to promote this album, mostly in Germany. Excerpts of the new album were for the first time presented on the Summerbreeze Festival (70.000 persons), the Rock of Ages Festival and on the "Rock am See"-Festival at the Bodensee! Here the 3 associate beside Gary Moore, 10CC, Roger Chapman, Doro Pesch, JBO, Psycho Punch, The Hives, Mando Diao and Deep Purple were allowed to rocked together, even if only on a stage beside.!
2010 saw them touring in a number of European countries such as Austria, Switzerland, Czech Republic and Norway.

Apart from classic Rockabilly songs and a large amount of self-penned material, the band's repertoire also includes songs from other areas of Rock Music, such as Jimmy Hendrix' "Voodoo Chile", Motorhead's "Ace of Spades", Chris Rea´s Road to hell or "Whole Lotta Rosie" of AC/DC, which they convert into their own style, which they themselves refer to as "Kick-Ass Rockabilly". The Pinstripes' special sound results from more than 20 years of experience with different bands and from the stylistic influences associated with these musical experiences. Although the trio definitely stands in the tradition of the great bands of the Rock 'n' Roll Revival of the early 80s such as the Stray Cats or Restless, they stylistically tread their own path and manage to transfer the Rockabilly Music of the 50s into the third millennium in an impressively vivid and powerful way. With their professionalism and their outstanding musical skills combined with a wild stage performance, the Pinstripes also manage to convince the audience at their live shows.