> Band members
------------------------------------
Patrick van Reijn - Guitars
Jeroen Kruiswijk - Vocals - Double bass
Arjan Kruiswijk - Drums n' Screams
Tom van Houten - Guitars (1990-1991)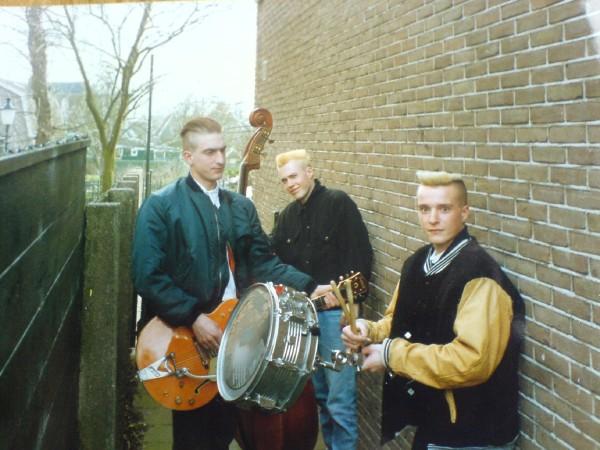 Es Feiv started as a punk band in 1980 with Patrick van Reijn and three friends (Paul – bass, Dirk – vocals and Henk – drums). In 1982 Henk left, Paul switched to drums and Jeroen Kruiswijk came in to play bass, but two years later the band split. They reunited in 1986 to do a Ramones-tribute tour, but in 1987 Paul left and once again the band split. Es Feiv came back in 1988 with Patrick (guitar), Jeroen (this time on double bass) and newcommer Dennis on drums with this time neo-rockabilly and psychobilly in mind. One month later they recorded the now sought after "Nous Nous Ok" ep (only 500 copies were made). Denis, busy with other bands, left and was replaced by Arjan, Jeroen's younger brother. Numerous gigs led to a contract with Rockhouse/KIX4U and 1989 saw the release of "Cows In Motion". Then, Patrick who couldn't combine his job with the band stopped playing and Tom Van Houten replaced him on guitar. The new trio wrote and rehearsed new material, played it on stage, but the band broke up before the new album (planned to be called "Johnny's Neighbourhood") saw the light of day.
The story could end here but in 2008, the line-up that recorded "Cows In Motion" got back together. Plans are to gig and record a new album.