> Band members
------------------------------------
Mike Reuter: Lead vocals/doublebass
Christian Kron: drums, vocals
Armin Fröb: guitar
> Discography
------------------------------------
Hello, Hello
6 tracks - Tally Ho TH14189

Cool & Hot
6 tracks - Tally Ho TH 201090

Rockin' In, Swingin' Out
11 tracks - Tally-Ho TH10492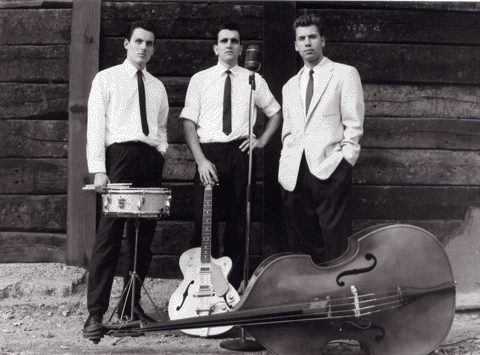 Not much is known about this German neo-rockabilly trio. To my knowledge they released two ep's (one in 1989 and another in 1990) and two years later an album, all on Tally-Ho records. If not original, this combo had good self penned tunes, some with strong melodies and carrefully chosen covers (Johnny Cash, Buddy Holly, Carl Perkins, Marty Robbins and even Cole Porter).
Their live set also included the following covers : Shakin' All Over, Tainted Love, Stray Cat Strut, Rock This Town, John I'm Only Dancin', Brand New Cadillac, Giddy Up A Ding Dong...

Thanks to Ricky Wildcat for the pics.
If you have more infos about this combo write us at fred[at]jumpingfrom6to6.com