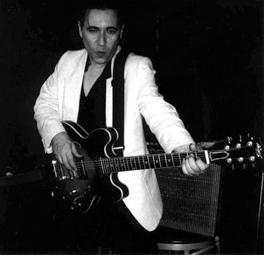 > Discography
-------------------------------------
Rockin & Jumpin
Rhythm & Blues - 2005
Rockabilly Blues - 2007
Jimmi Accardi is a singer, songwriter, musician, and performer. As a teenager, he played backup guitar for such hit-makers as The Classics ("Till Then"), The Moonglows ("Sincerely"), The Belmonts ("Where or When"), and The Regents ("Barbara Ann"). Later he toured as the guitarist for Chubby Checker.
Jimmi worked as a session guitarist for Rupert Holmes ("Escape" - the Piņa Colada song) on the album entitled Rupert Holmes. He also recorded with Harry Nilsson.
Jimmi's group The Laughing Dogs, enjoyed two critically acclaimed albums on Columbia Records (The Laughing Dogs and The Laughing Dogs Meet Their Makers) with original songs in the Billboard picks.

Jimmi toured as lead guitarist behind Mickey Dolenz and Davey Jones of The Monkees. He also was lead guitarist for the Eddy Dixon Band, and played with Evan Lurie (The Lounge Lizards).
Jimmi's experience with making records included working with producers Bruce Botnik and Eddie Kramer. Jimmi himself produced and engineered records for rap artists Scott LaRock and Boogie Down Productions, Ultra Magnetic, and KRS 1.
On the "Rockin' & Jumpin'", "Rhythm & Blues", and "Rockabilly Blues" CDs, Jimmi returns to his roots, with original rock and roll, rockabilly, and jump blues tunes.