Peter Davenport, from North London, made his debut on wax in 1978 playing piano for Shreveport Sam & the Hi-Tones' Rock'n'Roll Daddy-O on Mr C records. He then played bass and lead guitar on Mad Man Mark's Rockin' the Bop and bass on John Boy's Hey Little Honey, both on Mr C too. After that he joined the Rhythm Cats, a rockabilly band with hillbilly and rock'n'roll influences. The other members were Anders Janes, Neil Rooney (who later joined the Polecats) and Graham Heath. They released one EP out on Tyger records (Rock with the Rhythm Cats) and also recorded some songs for Alligator that later appeared on the Home Grown Rockabilly compilation (reissued on Nervous in the late 90's). After the Rhythm Cats folded, Davenport made a brief stint with Dynamite. But none of these experiences were very satisfying for the young rocker who wanted to have a band of his own modelled on his idol: Bill Haley.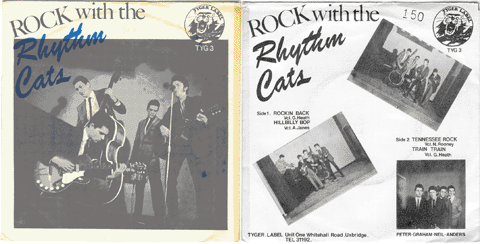 The Rhythm Cats debut Ep on Tyger

At the same time, a young Ricky Lee Brawn was getting fed up with playing country and M.O.R for the circuit of working men clubs. He had a solid rock'n'roll background and, like Pete, he wanted to start a real Rock'n'Roll band. "My Mum and Dad were Teds in the 50s. They collected many Rock'n'Roll records – Bill Haley, Link Wray, the Jodimars, Tommy Steele and Elvis. I remember very clearly playing their records on our radiogram player in the 1960s, I was around 6 years old. I became obsessed with this era and learned as much as I could about this. (…) I got more and more involved with the Rockin' scene, went to loads of gigs and eventually longed to play this music and started to play the drums at 13."


"I used to go to a Rockin' club in my home town of Luton, Beds. The Kingsway Tavern hosted the Dynamite band on one Saturday night. Clive Osborne was playing; after the gig I asked him if he knew of any band that was looking for a drummer."
A few weeks later Osborne called Brawn and gave him Peter's phone number. A rehearsal was quickly arranged for the following week at Davenport's parents' house in London.
One can say that the first seeds of the Stargazers were planted that afternoon of August 1980 when the two young rockers jammed together with just a guitar and a snare. Even with that small configuration they sounded great. They got along fine and the decision to form a band was self evident. Each brought his influences (Bill Haley and the Jodimars for Davenport, Western Swing and British rock'n'roll for Brawn) and both agreed on two points:

- The band had to sound as much as possible as if they came straight from the fifties

- They needed to have a strong visual impact and therefore opted for tuxedos and bow-ties.

With that in mind the duo started to look for the missing pieces to their Rock'n'roll puzzle. The first one to join was John Wallace. Peter met him on August Bank Holiday at an all-dayer in North London headlined by Buzz & the Flyers. The legend says that Pete went directly to him and asked if he could play the saxophone, and as incredible as it may seem the answer was a massive "Yes!" The reality is more down to earth: "On my third visit to the Royalty I met a guy called Tim (Hellzapoppin), he told me there was a guy called Pete who was building a band to play Haley based stuff. So we met & started rehearsals. At the time there was no singer."
Wallace had received his first saxophone when he was 15. He was listening to "old" jazz (Lester Young and so on…) and 50's Rock'n'Roll since the age of 13. In the late 70's he used to go to Rock'n'Roll clubs (The Royalty, Southgate, London & Hampstead/Camden Town Halls), where he saw popular bands of the day like Flying Saucers, Crazy Cavan, Shakin Stevens & the Sunsets, & Darts.
He used to play sax and sing in his school band and in 1977 joined a band called The Crouch End Invaders . "(they turned) into Madness a year after I had left! Could have all been so different".
The next one to join in was ex-Rhythm Cats Anders Janes. The half Swedish giant, a friend of Davenport since school, was already a trained double bass player as well as a good piano and trumpet player too.
"(after) Anders and John had joined we had our first full rehearsal this time in my bedroom at my parens't pub – I still have a cassette tape of this session and it sounds pretty damn good" recalls Ricky.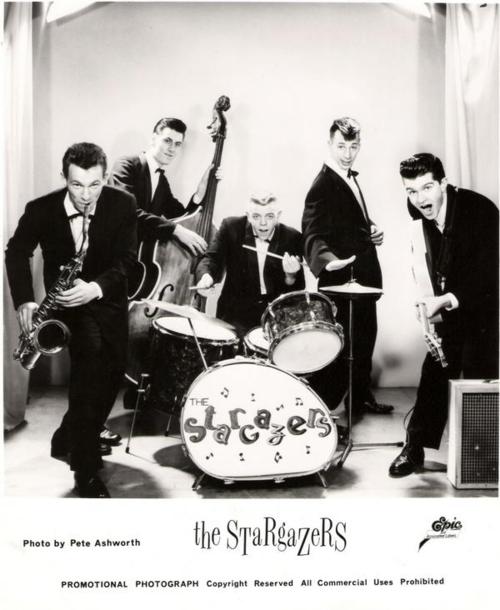 Now, though both Anders and Pete sang in the Rhythm Cats, the band needed a proper singer. In October, the Rocklanders, as they called themselves, started to audition for the position with no results ("We (…) were faced with an endless stream of embarrassing Elvis impersonators". Some hopes were placed in a bloke called Mark Haley (sounded too good to be true) but he left after a couple of rehearsals.
Finally the name of Danny Brittain, lead singer of The Barnshakers, a Crazy Cavan type of band was mentioned. Danny remembers that his name was suggested by John Wallace: "John's girlfriend, Charlotte, sang a couple of numbers in the Barnshakers back in around 1977… So when the 'Gazers needed a singer John remembered the Barnshakers - who were not gigging much coz all the others had gone off to college - and they gave me a call". Brittain agreed to rehearse with the band but was far from being convinced at first, wondering what was the point of joining a band that sounded like a record. But most of all, one small detail was annoying him: "I liked 75% of their material, but I didn't like the clean cut image - I was more leathers and rockabilly. But since my one ambition in life was to play at the Royalty in Southgate and I figured that they were definitely good enough to get a gig there, I joined them and just put up with the bow ties!".
By November the band was complete. They were five lads with varied musical influences (as Anders puts it "The Stargazers sound was a mix of many influences, (…) Bill Haley was a big inspiration, particularly for Peter, but also Freddie Bell, the Treniers, western swing, British rock'n'roll, and black r'n'b."), a catchy visual look (definitely inspired by the Freddie Bell, Vegas lounge kind of look, "which in the early '80s was a "new" look for a young band on the rock'n'roll scene. We definitely wanted to create an exciting new direction, both musically and visually, compared to other bands on the rock'n'roll scene at the time" continues the bassist) and a serious motivation to succeed in the music business. After some more rehearsals and a change of name, the newly christened Stargazers were ready to gig.

In the next chapters songs are demoed, a deal is signed
and a single is recorded.