In the begining
It all started in 1982 when Mouse Zihni's ex-girlfriend phoned to tell him that her current boyfriend Dave Bourne who played drums was looking for a singer to start a band. She remembered they both used to go to East Croydon Railway Club where Mouse would sing with the local band and that he had a good voice. At the time his favorite singers were Gene Vincent, Tommy Steele, Billy Fury and later Louis Jordan and Big Joe Turner.
A meeting was arranged for a rehearsal and Mouse met the rest of the soon-to-be band, Dave's twin brother Andy on bass and Sam Crabtree on guitar, in a cellar near Emerson Street where Crabtree worked during the day. The rehearsal went well and a few weeks later he was asked to join the band full time.
They worked a lot, playing covers of the club hits. They gradually started to gig in the South London clubs but didn't really go anywhere. According to Mouse "Sam didnt want to do new songs, he was happy to cover the songs he knew and that was that, so thats what we did, we were a cover band doing songs from the 50s. it was small time fun and got me some much needed money".

One night Mouse met guitarist Ashley Kingman who was not totally a stranger to the still unnamed quartet : Sam Crabtree sold him his first guitar and Dave and Andy were in the same school though a bit older. "I met Mouse in the toilet of the Castle pub, they used to have a regular monday DJ there. I seen Mouse with Red Hot n Blue, dug the show and told him I played guitar and was looking to join a band." recalls the guitar player. They already had a good guitar player but after some debating he was asked to join on rhythm.
It wasn't Kingman's first band, having played with local combos like The Outer Limits (a psychobilly band) and Dr Muscle Brain Valves, a blues trio with drums, guitar and harp/vocals. For the story the drummer in both bands was Gary Bonniface, who later went on to form the Vibes.

The newly formed quintet still needed a name. That's when Mouse came with Red Hot'n'Blue, a tribute to Dewey Phillips' radio show, the first one to play Elvis Presley records on air.
But not long after that Crabtree left the band to join the Blue Rhythm Boys "They were doing well and he just wanted the fast train out rather than take the slow train with us" remembers Mouse. After his stint with Paul Ansell's band Crabtree went on to form Cat Talk. Without lead guitarist the band couldn't go on. They stopped gigging for about six months but didn't stop working. They were hard at writing original material (including the future club hit "Sure Like The Look In Your Eyes" and Ashley spent this time to move from rhythm to lead. At this time the band rehearsed in the music shop where Ashley worked.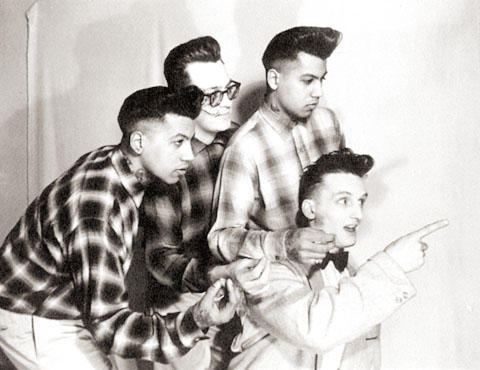 First publicity photo - Summer 1984 - Dave, Ashley, Andy & Mouse

Introducing Ray Frensham and Northwood Records

When they felt ready they started gigging again and from this moment things moved quickly. They played the weekender on the Isle of White and that lead to more shows in Europe and up and down the UK and gained the attention of Ray Frensham of Northwood record. He had the project of a compilation album and asked the band to record some songs for it. They agreed and wanting to expend their sound asked saxman Kevin Ellis to guest on the recording. Ellis was a well trained musicians being a member of Clive Osborne and the Clearnotes for two years.
So on November 3rd, 1984 Red Hot'n'Blue headed to University of East Anglia for their first recording session produced by Peter Davenport of Stargazers fame. Three songs were cut that day. "Get Back on that Train" written by Andy, "I wanna tell you that I love you baby" and "So Lonely On My Own" both from the pen of the team Kingman/Zihni. Two of them ("Get Back…" and "I Wanna tell you…" ) were released in June 1985 on the compilation album "Big Noise From Northwood". The other bands featured on that comp were the Sprites (French rockabilly band influenced by Gene Vincent), The Slingshots, Peter Davenport in full Bill Haley/Jodimars mode with the Roof Raisers and the Riverside Trio. The remaining third track "So Lonely On My Own" would later appear on the band's debut album. Years later an early version of "It's My Lucky Day" surfaced and have probably been recorded during the same session as it clearly shows Davenport's influence.

"Big Noise From Northwood" (Northwood NWLP 1002) received good reviews and Ray Frensham started to consider the possibility of recording a long player. With Kevin now a full time member (since December 1984) the young rockabilly band that played cover has mutated into a tight rockin'- rockabilly - jump blues outfit and was in high demand and appeared in all-dayers in UK and Europe, appearing on stage with the likes of The Jets, Red Hot, the Blue Rhythm Boys, the Keytones,the Riverside Trio, Rochee & the Sarnos and Johnny Powers whom they backed.

In the next chapter an album is recorded, some members leave
and are replaced and major companies are interested
by red Hot'n'Blue