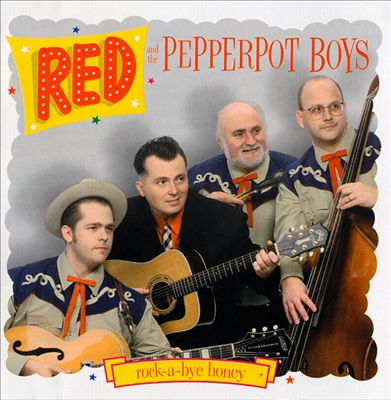 Rock-A-Bye Honey [1998]
Tomahawk Records- CD011743
Rock-A-Bye Honey – Cabin In The Hills – Crazy Little Mama – Just Tell Me Lies – The Color Of Her Eyes – Heart Like A Wheel – Go! Go! Go! – Used ToBe – Walk A Mile – Please Don't Break My Heart – High Time – Drink! Drink! Drink! – Pin-Up Peggy – Midnight Cruise

If you dig the kind of bands one can find on Vinylux (Flea Bops, Go Cat Go, Boom Boom Cats), don't look no further, this record is for you. In fact Red and the Pepperpot Boys can be seen as an early incarnation of the Flea Bops as they share the same singer (Ronnie Joyner) and lead guitarist (Preston LeBeau). And to 

pursue

 the Vinylux connection the drums (a light brushed snare) are played by Bill Hull, guitar player of Go Cat Go. Chris Bosch completes the line-up on string bass. If you're not too thrilled by wild and desperate rockabilly and prefer it more like Sam Phillips defined it at Sun, "Rock-A-Bye Honey" is made for you. The sound is mostly acoustic with just a slight electrification on the lead guitar just like they did it in the fifties. It's a safe bet to say that if you like early Buddy Holly, Johnny Cash, Johnny Horton, Carl Perkins and of course Elvis' Sun sides you'll love this platter. Ronnie Joyner is a superb songwriter (13 of the 14 songs are originals) who can craft little classics, and icing on the cake he has the perfect voice to sing them. Issued in 1998, this album really needs to be rediscovered.

Fred "Virgil" Turgis