Singin' and Satan:
Marti Brom Gives
the Devil's Music
a Heavenly Twist
By Denise Daliege-Pierce
"Satan," Marti Brom quipped when asked why she had chosen to take her eclectic blend of rockabilly, rhythm and blues, swanky pop standards and anything in between to the stage. That one word response, derived from a 2011 interview conducted via e-mail, was an indication of Brom's charm and tongue-in-cheek humor, traits that—along with her fiery vocals—have served the songstress well.
While frequently uttered in the same breath as such modern rockabilly notables as Big Sandy and his Fly-Rite Boys and Kim Lenz, Brom's catalog, like those of her associates', is as varied as the locales that she has called home. Early exposure to such musical and topographical diversity did more than just mold the singer's harmonic style. "I grew up in St. Louis and spent many of my summers in Baton Rouge with my grandmother and her country doctor husband," she recalled in 2011. "Many of his patients paid for his services with live crabs and shrimp and oysters, so I would say that my summers in Louisiana did more to shape my tastes in tastes than in music. Of course, the great music and shows such as 'Hee Haw' were definitely part of the background."
"More important to shaping my style on stage was my access to my grandmother's grand trunks filled with fabulous outfits and jewelry," Brom continued. "When I wasn't in the pasture squishing my toes in cow poop, I was pretty much spending all of my time plundering and playing dress-up with my grandmother's things."
It was around the age of 13, while living in Italy, that Brom received an introduction to the music of Suzi Quatro. Although Quatro would become primarily known throughout the United States for her recurring role as Leather Tuscadero, the tough talking, leather-clad guitarist of the popular television sitcom, Happy Days, in Europe, she was one of rock 'n' roll's biggest acts. Quatro's edgy sound—think Joan Jett and the Runaways—stirred the musical yearnings within Brom and, a few years later, she decided to fly to England in hopes of stoking her own fledgling singing career. The decision, however, was not a fruitful one. "I wasn't hoping to be discovered, exactly; I had simply read about Chrissie Hynde's adventures in England and decided to follow suit," she explained. "Unfortunately, I truthfully answered the customs agent that I did not yet know how long I intended to visit the country. My honesty cost me a year's worth of the money I had saved for the trip—airline tickets cost much more back then—and a night in jail. I can say that the officials were not pleasant—not to me, and especially not to the African families who were my cellmates. Oddly, as an adult, I've never been asked that question again. I think England, at the time, had its fill of punk rockers and wasn't looking for more."
Fate, destiny, chance—call it what you will—oftentimes dons the guise of practical joker. Hampered by stage fright, it would be several years before Brom would finally make her singing debut, performing in the Officers' Wives Club-produced musical, "The 1940s Radio Show", at Scott Air Force Base in Illinois. Along the way, she became acquainted with budding musician Michael Stipe, who would achieve renown as frontman for the popular alternative rock group, R.E.M. "I was the poster girl for a band that my guitarist boyfriend, Joe, led back around 1978, Bad Habits," began Brom. "Joe placed an ad for [a] vocalist, and Michael Stipe answered the call. I never did see the band perform because, at the time, I was between fake IDs, so I mainly knew Michael from our trips to 'The Rocky Horror Picture Show'. I would go as Magenta and Michael, of course, was Frank-N-Furter. He was an Army brat; a high school student living near Scott Air Force Base, the same base where I, much later, kicked off my own music career after marrying my own military man."
Brom later added, "But I can thank Mr. Stipe for first suggesting to me that I might like the music of one Patsy Cline. He thought my voice suited her style. My path did not cross with Mike's again until I ran into him at the Continental Club in Austin, Texas, almost 25 years later. Austin is one of those towns where celebrities can just hang out without everyone around them acting like a fan."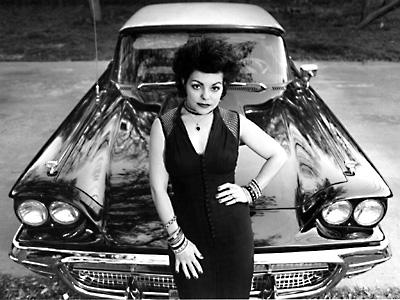 It was in Austin that Brom began to earn her reputation as a versatile performer, drawing material—and inspiration—from numerous sources, from Martha Carson and pop balladeer Connie Francis to Charlie Feathers and "The Queen of Rockabilly" Wanda Jackson. "I guess some of the biggest would have to be Mama Cass and Big Mama Thornton; the smallest would have to include Little Jimmy Dickens and, of course, Little Brenda Lee," she joked. "But seriously, my influences are too many to mention. I've worn out the grooves on artists ranging from Dolly Parton to Doris Day. I pretty much absorb music and song from every performer and musical style—well, except rap, but that is really poetry, not song; usually very bad poetry."
Unbeknownst to Brom, rockabilly's raw energy and rebellious sound had long ago seduced her into its fold. "I think like, as with most Americans, it was just part of the fabric of rock 'n' roll," she related. "I grew up on Elvis Presley movies, but I never thought of there being a separate sound called 'rockabilly'. That was more of a British thing. Even around 1980, when I had seen such acts in clubs as The Rockats and Chris Isaak and Carl Perkins, I did not think of those acts as being anything other than being normal rock 'n' roll music like other acts I saw, such as Screamin' Jay Hawkins or The Ramones. I don't really recall even using or hearing the word 'rockabilly' in a conversation, until one day, a guy I was dating came over to my apartment while I was playing one of my favorite albums, a collection of George Jones tunes called 'Rockin' the Country', and he called it 'rockabilly'. Of course, that guy, who proposed to me five months later in New Orleans, was a rockabilly fan who, on one of our first dates, took me to Memphis to hang out with Tav Falco and Panther Burns and, of course, The Cramps were the ultimate experience as far as being a rockabilly revelation. So, in other words, I was [a] rockabilly fan all my life without ever knowing it."
From its infancy during the mid-1950s to the early 1980s renaissance that made the Stray Cats the darlings of MTV and its current incarnation of hip subculture, the genre continues to resonate with music aficionados. "It may just be because it is the last man standing; the least diluted term," Brom remarked. "If you put on a rockabilly record, you know, at the very least, it will be a rock 'n' roll tune. If someone says they are going to play a rock 'n' roll song for you, it is very likely to be a whiny white folk song. And country music, of course, is even worse. That term does not mean anything at all anymore—well, it does mean that the song you are about to hear on the 'country' radio station is guaranteed to not be country music."
"In the USA," Brom elaborated, "rockabilly music seems to be currently kept alive and young by the Hispanic population, especially in Texas and out west. I do not know why, exactly. I think, maybe, the imagery and the hot rods draw them in at first, and then they discover that the music is a real hot alternative to the boring radio rap. When I or Wanda Jackson play on the West Coast, our audience is mainly young Hispanics. On the East Coast, it is a smaller audience of older white folks. The sad thing is that the music is probably least popular among the descendants of the rural white hillbillies who started it all! Of course, a lot of them just don't know it is still around. It hasn't helped that trappings of southern heritage are now often suspected as being vaguely racist by polite, ignorant society."
Brom would perform with a variety of groups throughout her lengthy career, belting out rockabilly numbers with the Jet-Tone Boys and western swing rompers alongside the Cornell Hurd Band with similar ease. Though her leanings toward the oeuvre entrenched her within the nouveau rockabilly niche, Brom's musical cornucopia contains much more than a cover of Joyce Green's "Black Cadillac" or another Wanda Jackson rocker. Brom's ability to seamlessly segue from rockabilly to country to pop has groomed her into a multi-faceted singer, a far cry from the convenient one-size-fits-all labels frequently attached to artists of varied styles. "Well, when I decided to get on stage, I was attracted to the idea of singing music along the lines of the George Jones 'Rockin' the Country' LP and my Patsy Cline records, so my image was, naturally, rockabilly, but I have simply never thought in terms of genres. I am just attracted to good songs, great performances and, of course, fabulous outfits," the vocalist explained. "Probably the genre that I have the hardest time paying attention to is that of modern folk music, and that is partly because most of those performers do not seem to have a sense of style. They look like they just stepped up from the audience—well, kind of like new 'country music'. Who wants to see that? The old country singers had a lot of great style, which is one reason I do like to perform country music on stage. They also had songs [with] real heart and soul."
That abundance of music styles fueled a string of songs and albums, including 2000's "Feudin' and Fightin'", a Dorothy Shay-inspired collaboration with the Cornell Hurd Band, and "Sings Heartache Numbers", a 2005 ode to Patsy Cline and other vintage country queens. "'Heartache Numbers' is for people who love real country music and 'Feudin' and Fightin'' is for people who don't," Brom stated. "Actually, in the 1940s and thereabouts, there was a genre of music that was popular in the North, where singers lampooned their idea of Southern white music. It fit in with their Li'l Abner visions of the great unknown South. The hillbilly lampoons, such as Lum 'n' Abner, went hand in hand with the lampoons of Southern black culture, such as Amos 'n' Andy; all of it a neglected art form."
Brom's pairing with Finnish roots band, The Barnshakers, resulted in some of her most recognizable material, including the albums "Snake Ranch", released in 1999, and 2003's "Wise to You!". One might suspect that working with such a diverse triumvirate of groups would pose problems or result in favoring one more than the others but, for the musically flexible Brom, it's been a blessing. "Ain't no comparing! What are you trying to do, start a feud?" she teased. "Actually, what they all have in common is they all represent the top practitioners of their art forms: the best of the best. I have said, many times, that I have been unbelievably fortunate in the caliber of musicians and human beings with whom I have worked. They are all friends, as well as partners. I think I am also attracted to musicians who are both outstanding and giving. All of the Jet-Tone Boys, The Barnshakers and all of the Cornell Hurd Band were fully dedicated to supporting other musicians and the art forms that they love. I can tell you all of them have given more than they have received. They deserve far more than they could ever receive."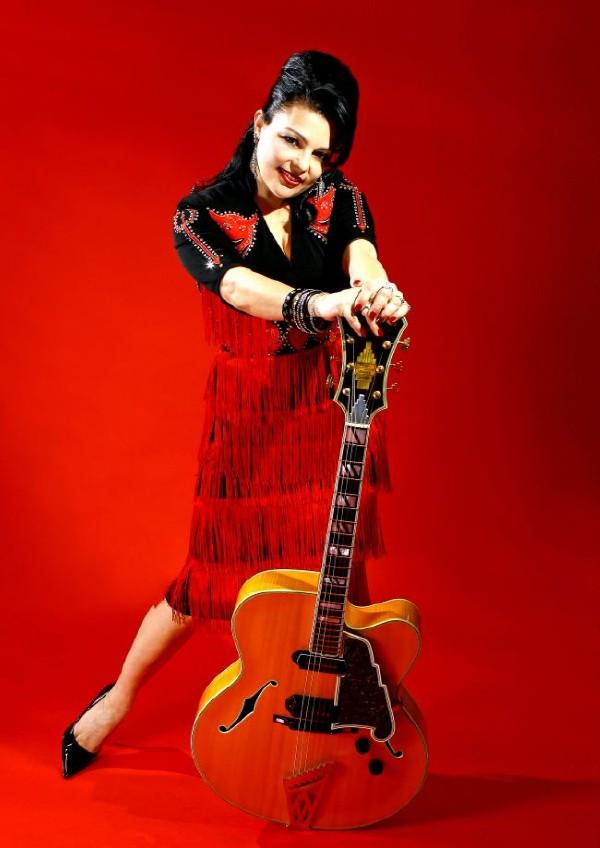 Brom's twentysomething years in music have afforded her the opportunity to share the stage with a number of her heroes, including rockabilly artist Robert Gordon, "The Female Elvis" Janis Martin and Wanda Jackson. "I especially enjoyed the first time I got on stage with Wanda at her first birthday bash in Austin that my friend, Rosie Flores, hosted," she shared. "I did not sing; rather, I played finger cymbals while Wanda sang 'Funnel of Love'."
Breathing new life into the works of some of her favorite artists has its advantages, too. "Check out my new release, 'Not for Nothin'', and you will see a photo of me and Pat Brown, the original singer of 'Forbidden Fruit'. Daryl Davis, East Coast pianist extraordinaire, pitched a 45 for me recorded by a teenager in 1961 and, a few months later, Daryl brought that teenager over to my house!"
"Meeting these folks has been one of the greatest fringe benefits of my singing hobby," Brom went on. "I became close to Janis Martin before she passed away so suddenly and have remained close to her family. And, as you probably know, Kathy Cranston, the wonderful grandniece of Dorothy Shay, ended up flying to Austin to be in the audience for the 'Feudin' and Fightin'' record release show—and she lent me Dorothy Shay's dress to wear for the occasion! It fit perfectly."
Brom's desire to spend time with her family, to the dismay of her fans, frequently resulted in a lighter touring schedule. With "Not for Nothin'", Brom's datebook has rapidly filled. "This is a very cool project, and it was released jointly by Goofin' Records and by the old D.C. rockabilly label, Ripsaw Records," she commented.
Grammy award-winning producer Peter Bonta lent his expertise to the record, an homage to Washington, D.C.'s rich musical heritage. "We tried to include as many connection[s] to the greater D.C. area that we could: local musicians, studios, songs and, of course, the label itself," Brom explained. "D.C.-based Bill Kirchen supplies a song and accompanies me on a duet that I let him pick out."
The aforementioned Davis, guitarist Pedro Sera, bassist Louie Newmyer and Saul T. McCormack on drums were amongst those to flesh out the disc's something for everybody tone. "By the way, the fact that Peter Bonta is first cousin to Mr. T [Jarrod] Bonta from our 'Snake Ranch' record was a pleasant surprise to us," Brom noted.
As technology progresses, so do the formats through which audiophiles consume and purchase music. Thanks to the internet, the days of popping into your area record store for that sought after album are rapidly being relegated to the endangered species list. YouTube has superseded the once domineering MTV for video availability, while digital downloads have made the recorded output of acts from across the musical spectrum readily— and cheaply—available. It's a change that, for Brom, has its benefits, as well as drawbacks. "Well, unheard music is unbought [sic] music," she observed. "Many people, such as myself, listen to downloaded music much as we used to listen to the radio. We find things we like from the dross, and it creates an itch to actually own the artifact—especially if that artifact is made of virgin vinyl and comes with a full-sized LP cover and the complete analog recordings—not digitally sampled where my brain has to connect all the aural dots. I have no idea if that holds true for the youngest generations. My guess is that, overall, it has helped independent artists and done more harm than good for major music companies."
Two years following the release of "Not for Nothin'", Brom remains an in-demand commodity. She continues to perform—the Teri Joyce-penned "Blue Tattoo" remains a fan favorite—and, in late 2012, she joined fellow rockabilly songbird Rosie Flores on tour in support of Janis Martin's posthumous effort, "The Blanco Sessions". It's a seemingly perfect fit: the catalog of the pioneering "Female Elvis" living on through the vocal skills of Brom: country crooner, western swing singer and—perhaps—the ideal candidate to introduce rockabilly music to another generation willing to throw caution to the wind…and a decent record on the jukebox.