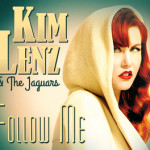 Follow Me [2013]
Riley Records RRCD-4007
Pay Dearly – Follow Me – Deejay – Tumble and Fall – Whiplash – Ghost Of You – Cry Wolf – Number One Reason – Three-Cornered Heart – Shadows On The Old Bayou – Right Here With Me – Trust No One
For her fourth album, the fiery redhead has once again gathered a fine array of musicians whose names should speak to every Rockabilly fans: Carl Sonny Leyland on piano (who also produces), Ramon, Espinoza and Ashley Kingman on guitars, Kevin Stewart on double bass and Kevin O'Connor on drums. A couple of guests joined the fun too: Dawn Shipley sings harmony vocals on one tracks, Shorty Poole plays steel, Ron Dziubla blows his sax and James Stevens plays guitar.
All songs but two – Rikki & the Rikatones' Whiplash and Johnny Horton's Shadows on the Old Bayou – are originals with eight penned by Lenz and one by Espinoza.
Follow Me is more eclectic than her previous efforts ranging from Honky-tonk (Right Here With Me) to straight Rock'n'Roll with some jump-blues, jazzy stuff (the New Orleans tinged Ghost Of You that only needs a horn section to be complete) and of course plenty of Rockabilly.
One can only regret that the overall quality is slightly marred by average and unoriginal material, like the opener for example, though, even on these two or three songs one can find top musicianship, like Leyland who never fails to deliver the goods on piano. Her songwriting is far better on more adventurous stuff like Follow Me, Deejay, Three Cornered Heart or the aforementioned Ghost of You. Also on the more traditional numbers, Lenz tends to abuse of some Rockabilly mannerisms like growls and falsettos that sometimes sound contrived and a bit clichés. I firmly believe it would be to her advantage if she sang in a simpler manner, her voice being good enough for that.
Anyway, despite these minor flaws (old grumpy that I am!), Kim Lenz' latest release remains a sure buy for fans of roots music.
Fred "Virgil" Turgis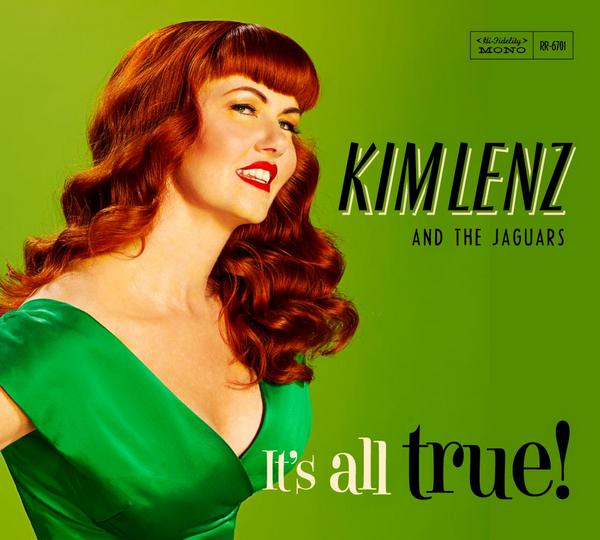 It's All True [2009]
Riley Records RR3008
Touch Me - That's The Breaks - Zombie For Your Love - Ramblin' Feeling - Chocolate Eyes - I'll Tell You When - He's All Mine - Speed Limit - Know-It-All - I Break A Heart Every Night -Burning Rubber - Shined Up And Ready To Shout
At last ! Ten years after her last studio album (a time she employed to have and grow up a baby) Kim Lenz is back with former Jaguars Nick Curran (guitar), Scotty Tecce (drums) and Jake Erwin (double bass). Did the maternity tame her? Well, not at all. On the contrary she comes back with an album almost too hot to handle on which she penned seven songs. Fill with high octane rockabilly (Lenz vocals and Curran's guitar blend particularly well), it also features hillbilly harmonies (Zombie For Your Love), a bit of jazz with I'll Tell You When written for Kim by Sage Guyton of The Lucky Stars and even a waltz, I Break A Heart Every Night, that benefits of superb harmonies from Scotty Tecce's side band The Fabulous Harmonaires. Icing on the cake, Big Sandy contributes one superb rockabilly on which he duets with the fiery redhead and co-wrote another.
Good to see you back, Miss Lenz !
Check her website to grab your copy.
Fred "Virgil" Turgis