Was music around you as a kid?
Well, Fred, I grew up in the 60s and 70s.I lived in a household filled with music.I was exposed to some rate, unusual and sometimes downright weird music because of my brother Peter, a DJ and record collector.It wouldn't be an unusual thing to hear John Zacherle, Professor Longhair or Bee Bumble and the Stingers.It was a great education on early rock, R&B, novelty and horror novelty music.

What age did you start singing?
I don't remember exactly when I started singing. In fact I don't remember ever not singing.I sang to records and the radio—I would write down all the words so I could learn the song. Growing up I took dancing lessons, mostly tap and jazz.Around 18 years old I started to learn to play guitar.I bought some crappy guitar at a second hand shop and learned some chords.I started singing back up vocals in my musician brother, Allan's roots bands.It was fun, and it pushed me out of my comfort zone.That can be exciting, I guess I was kinda hooked.

Did you play with other combos before you formed The Stumbleweeds?
By my early 20s, I was starting to genuinely love rockabilly and country music:Patsy Cline, Loretta Lynn, George Jones, Wanda Jackson, Janis Martin, The Collins Kids…I would learn about somebody new and then search for more! I bought Bear Family compilations and other reissues and I would look for the real thing at yard sales and second-hand stores. I started thinking about forming a country band and pitched the idea to my slightly brother, Allan. Allan and I decided to give it a go and started a country/rockabilly band called The Country Bumpkins.We focused on duets but we also each did some leads.This was my first experience singing lead vocals on stage.We played a lot of local gigs in the heyday of the Boston music scene, when roots, rock and punk commingled nicely.We didn't have much original material but the band put out one CD. We got some radio play.The band broke up after ten years in 1997.It was a very friendly breakup, things just kind of fizzled out.

How and when did you form The Stumbleweeds?
I formed The Stumbleweeds in approximately1999.I was starting to get anxious to sing and perform again.It had been a year or two since The Country Bumpkins broke up.

You had some lineup changes since the beginning...
The original lineup was myself, Lynnette (vocals and acoustic guitar), Chris DeBarge (pedal steel guitar and vocals), Tom Umberger (lead guitar), Mike Feudale (stand up bass) and Kimberly Rullo (drums).We released our first CD, Pickin' and Sinnin' in 2001 on the Rawk Records Label.The CD was 12 songs—9 originals and 3 vintage covers.It was very well received, got great reviews, tons of radio play and sold very well, it was distributed by Hepcat Records.It is now basically out-of-print.This lineup ended in 2003 when Tom moved to Austin; Kim to CA.Chris wasn't keen on starting over again and Mike was real busy with his own band, The Coffin Lids.

What is the current line-up?
Now The Stumbleweeds has a new lineup and an exciting new start! Of course, there is Lynnette Lenker—lead singer and acoustic guitar.The first new member is Dennis Kelly—lead guitar.He is one hell of a guitar player, one of the best in the area, his playing style and record collection has pushed the band in a more 60s direction.Next is Jack Hanlon—stand up bass.Jack is an outstanding dog house bass player.Jack and Dennis are extremely dynamic, knowledgeable players who know each other really well and work very well together.Then Johnny Cote—drums joined next.He is an excellent roots drummer and his playing style meshes well with the other boys.Then Lisa Beauregard—backing vocals became our newest member a few months ago.About six months ago, in the summer of 2005, I saw Lisa singing back up vocals for Miss Lauren Marie.Our bands were sharing a bill at the Abbey Lounge. I really liked her voice and missed having another vocalist since the departure of Chris, so I asked Lisa to join.

What does it change to have a backing singer?
Having Lisa Beauregard singing back up vocals has really made things especially fun for me since it adds a new dimension to the band's sound and opens up so many more possibilities with regards to song choices. Before she joined, I would often feel I had to avoid certain songs because they wouldn't sound good without backing vocals or they were duets.It's really fun having a girl in the band, she's young and I enjoy her enthusiasm a lot! But most important, her voice is excellent and blends really well with my own, what more could you ask?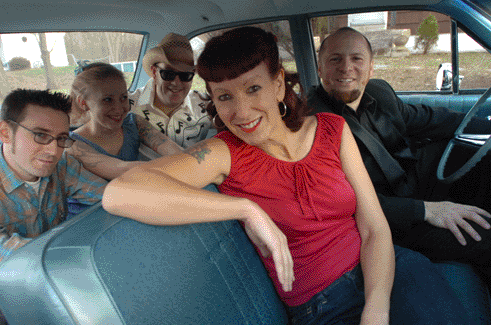 Do you still use steel guitar?
Since Chris DeBarge, our old steel player, left we haven't had pedal steel guitar.Our sound is not begging for it as much as it used to now that we're more of a 60s sound.
Who are your favorite singers?
Dennis Kelly is a record collector and he comes up with unbelievable amounts of fabulous somewhat obscure material for me to choose from. I gravitate towards the more rockin' numbers by Wanda Jackson, Loretta Lynn, Barbara Pittman, Jean Shepard, Patsy Cline, of course, Janis Martin and contemporary Marti Brom.These are my major influences although I don't want to discount my favorite male singers: George Jones, Elvis and Michael Nesmith.There are so many more but you get the idea!But it's also wonderful to see some of the really great new acts at the festivals and weekenders too!I also really like The Ranch Girls, Marti Brom, The Lucky Stars, Deke Dickerson, The Two Timin' Three, Cari Lee, Los Straightjackets, way too many to name…so many talented singers and musicians!
One of the great news for The Stumbleweeds in 2006 is the release of a new CD.
Fred, we're really excited about our upcoming release. We just finished recording and mastering on January 23rd.This is our second CD, called, Evil On Your Mind.It'll have 15 tracks with 6 brand new originals and 9 hand-picked vintage covers.Our sound is predominantly 1960s classic country with some rockabilly and honky tonk as well.Our first CD had a predominantly 1950s honky tonk sound.
Where did the songs come from? Did you start songwriting yourself?
The six original songs were written as follows:You asked if I started writing songs.Well yes, I did write two songs that ended up on the the CD.One song, "Dog Gone Thing" is a slow song that scolds a lazy good-for-nothing husband, a bit in the Jean Shepard mold.The other, "Baby I Still Love You" is uptempo and about a drinking, husband, barfly husband.Hmm, kind of a theme going there.Fortunately, I'm not taking this from my own existence!I haven't written a ton of songs, and the song writing process is still a little mysterious.After I write a song and demo it form my bandmates, I always am suspicious if they say they like it, I'm always skeptical about my own compositions.
Mike Feudale's "Had Enough" is a fine example of a well-constructed honky tonk song with great lyrics.The song is one of my favorites! Chris DeBarge wrote, "Pennsyltucky," a humorous tale about a country gal tryin' out the city life but retreating back to "Pennsyltucky."I'm real happy with the way the song came out, and I hope Chris is too.Finally, John Fuller ("Nashville to Nashua") wrote two songs for the CD.We are lucky to have him as a frequent contributor of songs to The Stumbleweeds.John's first song, "Runnin' Out of Money" is a bit unusual musically for us, almost 1920's at times, but it's a great song and we had run arranging and recording it.And John Fuller's other song, "Tearin' Up The Town" is a tad mournful, about the gal's fellow always "tearing up the town," so the gal decides, hey, I might as well tear it up too!This is a real nice song as well.
The cover songs are songs originally recorded by some of the great female country and rockabilly singers of the 1960s:Wanda Jackson, Jean Shepard, Janis Martin.One song, "Only Mama" was recorded by no less than four popular country singers of the day!
You come from New England, how is the scene there?
The scene in Boston ain't what it used to be!Many of the popular Boston rockabilly bands are gone—and the scene has shrunk.But there still are new bands popping up, Johnny Carlevale, The Coffin Lids, The Revival Preachers, The Curses.My brother Allan has a western swing band of some renown called The Spurs.But we manqge to find plenty of places to play.Looks like we might be playing at Harvard University next week, lah dee dah!
You'll be back to Viva Las Vegas this year? A word about that.
This is my third performance at Viva Las Vegas!It has been a truly an exciting and fun experience every single time.I love playing the main stage in the ball room, the sound is wonderful and the crowd fantastic.We play Sunday night, April 16, 2006 at 8 pm!Almost as good a playing, yes almost, is seeing all the other incredible acts.I really have to give people like Tom Ingram and Marc Mencher among many other brave roots/rockabilly festival organizers credit for putting together these great venues.I am so happy to get to be a part of it!I am trying to get booked at more and more festivals, weekenders and car shows because they are truly enjoyable and a great way to be seen by people who really like an understand the kind of music we are playing.I mean I've had people at some bar gigs request a Simon and Garfunkle song.One time a lady asked me to sing something by Patty Smith.You have to be polite to your audience but for crissakes!
A last word?
Fred, sometimes I think I must be certifiable to stay in this so-called music business.But the rewards can be very satisfying if you can stand the rejection and frustration that goes along with it.If one is looking for big money, I wouldn't suggest becoming a classic country/rockabilly singer, that's for sure.But I've had the opportunity to record "albums" that people actually seem to like and they tell me so.Live performance can often be really gratifying, although those off-nights can seem like hell sometimes!I'm a very stubborn person, I guess.I don't give up easily. If I did give up easily, I would have quit years ago.But I am very anxious for our new CD, Evil on Your Mind, to be heard and to get some feedback.We worked hard on it and I'm happy with the results.I am extremely optimistic that we will get signed to a good label and I intend to start shopping the new CD immediately.I want to give a couple of my favorite labels a chance to look at it before it is released to any radio stations.But we will make sure we have copies for sale at Viva Las in Vegas and we will be selling it at shows and through our website (http://www.stumbleweeds.com) by about mid-March 2006.If we don't get picked up by a label in the next few months, then I will probably seek another distribution deal with Hepcat Records.
So, Fred, as a last word, first I want to thank you for taking the time to interview me on behalf of The Stumbleweeds for your most excellent webzine, Jumpin' from 6 to 6!I guess to sum up, ultimately our aim is to be able to travel to more out-of-town gigs and festivals and we believe this new release will help get us there.My dream is to play Europe, so I hope to make that happen in the near future.But all the blabbing in the world on my part won't mean anything unless it is borne out by our live and recorded performances.That's really what it all comes down to!