Blending rockabilly with blues, rhythm'n'blues, swing and rock'n'roll, Russell Scott and his band, the Red Hots, delivers an highly danceable and enjoyable musical cocktail since the 90's. Gifted with a real talent of songwriter and singer, he's one of the rare living artist (the only other who comes to my mind is Jame Intveld) to have seen an album released on the German label Bear Family on 10" (released later on cd).
He has also lent his talent of gut bass player to Dee Lanon, Big Sandy and Rosie Flores.
The Red Hots' line up came through a lot of changes across the years (including Loyd Martin, Dave Stuckey, Gene Jamarillo) but original members Philippe AUbuchon on drums and Archie Vowell on guitar are now back.
by Fred "Virgil" Turgis
and Dave "Long Tall" Phisel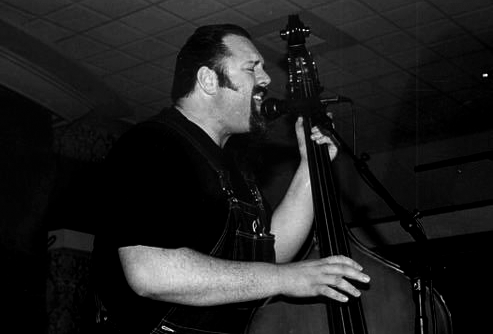 How long have you been doing music ?
My father taught me to play guitar 34 years ago and started my first band at 15 years of age.

How did you get started ?
Playing old songs with my Dad and his friends.

Did you grow up in a musical family ?
Yes my Mom and Dad both love music and I had full use of thier records.

Do you remember the first record you bought and/or the one that made you think " Woahhh, thats what I want to do ! "
I bought Be Bop A Lula for a Quarter, but Elvis was the one who inspired me to play music.

What are your influences as singers and songwriters ?
As far as singers: Elvis,Little Richard,Little Willie John,Ray Charles and Clyde Mc Phatter among others. As far as songwriters:Hank Williams,Chuck Berry,
Lieber and Stoller,Buddy Holly,Willie Nelson and too many others to name.

Do you remember the first show you played ?
The first Paying show at a club was with Jamie James and the Kingbees at the Palomino in North Hollywood, California back in 1984.

About your album, was it your first experience in the studio. Did you release anything before that ?
My first record was recorded in 1984 and released as a 45 in 1985. I wrote the music and lyrics to both songs. The tracks were "Gonna Rock n' Roll" and "If You Loved Me". The band was called the Rockn' Renegades.

Was it done live in the studio ?
Yes, we recorded and mixed eight songs in eight hours.

What is the most memorable gigs you played and/or went to ?
There are a lot of gigs that come to mind like opening for Jerry Lee Lewis or Willie Nelson with my own band Russell Scott and his Red Hots, but I've also played Bass with the Blue Caps, Wanda Jackson, Big Jay McNeely, James Intveldt, Rosie Flores, Glen Glen, Candye Kane and Roy Gaines.
The first big Rockabilly show I went to was in 1983 on the bill were Collin Winski and the Westernaires, Levi Dexter, The Rockn' Rebels, James Inveldt and the Rocking Shadows, with special guest Larry Collins and Charlie Feathers. That show changed my life.

When can we expect a new release ? What about your future plans? Some gigs?
Yes we are in the process of recording and hope to have a new cd. soon. we have gigs all the time but haven't been to Europe since our Bear Family record "Killer Combination" came out in 1997.

What do you think about the rockabilly and country scenes today?
I think it's Great. There plenty of great new bands out there and many of my old friends are going strong. The internet is and exciting new frontier in the promotion and distribution of music and I'll continue to Rock and Roll till I can't no more.

A last word ?
Thanks for your interest and Keep rockin'