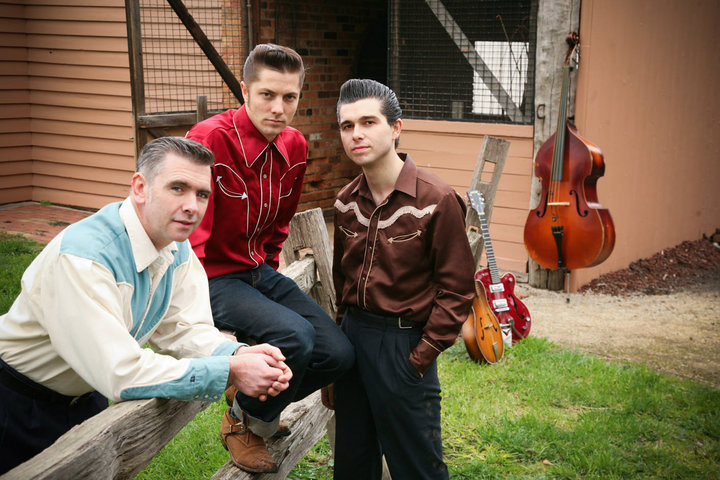 Could you introduce the band members?
Well we have myself, Tyron Shaw on Double Bass as well as Lead Vocals / Harmonies, guess I've been playing around in bands since about 1990-1991 a bit of a late starter with my music career. We also have Felix Potier all the way from Perth, the capital city of Western Australia, who picks away on his Gretsch Tennessee Special (6119-SP) also on Lead Vocals and Harmonies and finally we have Leo Francis who came to us via New Zealand but has been living here in Australia for the last 7 or 8 years strumming away on Rhythm Guitar and handles alot of the Lead Vocal work and throwing in harmonies on various tracks.

Were you in other bands before? I believe that you, Tyron, played with Hank's Jalopy Demons before...
Yes, that is correct I did play with Hank's Jalopy Demons here in Melbourne. I joined that band when I moved interstate from Queensland down to Melbourne back around 2000-2001 and performed as Bassist for them for about 6 or 7 years. Before that I was a member of The Slingshots based on the Gold Coast in Queensland and we were playing more a mix of Neo-Rockabilly mixed with a Swamp-Blues Rock kind of feel I guess you could call it, definitely on the heavier side than what I play today. But even before that, my very first band with members from The Slingshots, was a Psychobilly combo that we called The Psyclones, we had a few original tunes but mostly covered many European style Psycho acts like The Krewmen, Batmobile, Nekromantix, Demented Are Go, etc. During that time in Queensland I was in and out of a couple of other band formations too but just for short periods, even joining a Folk / Pop / Irish acoustic combo which was totally 'left of field' for me.

As for Felix, well he had been performing in a few outfits himself, one that was not that dissimilar from The ReChords, they were also a drummerless trio called The Salt Flat Trio out of Perth but they disbanded after a fatal car accident took the life of their lead singer around 2006 I think it was. But he too has a diverse background in music performing in another of his own bands called The Blue Jays more of a 60's influenced Garage, Soul, Psychodelic three piece as well as a another local Melbourne act called Casket Radio playing a heavier mix of Neo-Rockabilly plus he has also been in and out of various bands back in Perth for many years.

Leo, on the otherhand, is quite new to this style of music. The Rechords being his first venture into Rockin' Hillbilly, his background was mainly in a raw garage, almost an experimental type band performing back in his hometown of Whanganui in the North Island of New Zealand. He has been performing the odd show around town here in Melbourne as The Strappers with fellow New Zealanders, also more of a raw garage style band but he began developing a passion for early Hillbilly and some of the Rock-a-billy greats when he met up with local Preston Studio owner and legendary Melbourne bassist, Graeme Thomas.

How and when did the band form?
Well, the trio is just over a year old, we began rehearsing up the band about June/July in 2009 and booked our first show at the end of August 2009 for the first Wintersun festival in Mildura, Victoria. From there on we just began booking show after show and I think we've covered approximately close to 90-100 shows since we started, performing at various venues throughout Victoria and most of the main states of Australia with our album launches late last year.
It all came about really, from myself wanting to form a new act. After a few quite years when Hank's Jalopy Demons came to a halt when our lead vocalist, Hank Ferguson moved to Berlin I began getting the urge to look at wanting to form a new band based around possibly Western Swing and early Hillbilly. I was contacted by Graeme Thomas (of Preston Records fame) who had also been performing in rockin' bands since the late 70's / 80's and he had introduced me to a young singer he had met, being Leo, we got together and I was blown away by his vocal husky tones and knowledge of the early Hillbilly artists, almost a natural for this style of music. It wasn't until I ran into Felix at a gig in town and found that Felix had moved from Perth about 6 months prior and was now settled in Melbourne, I'd always been a fan and admirer of his guitar work with The Salt Flat Trio, combining his influences of early Rock-a-billy / Hillbilly and Jazz licks. It was then I approached both Leo and Felix about forming a new combo, originally thinking of incorporating a drummer and possibly a Steel Guitarist. We began gathering a bunch of covers that we all brought to the table and agreed upon, I really wanted to have a shot at doing some lead vocal work as well with this new combo so we all began singing various songs and playing around with harmonies. Well, it didn't take us long to realise that all three voices sat well with each other and that we all had the ability to swap harmonies between certain songs. It was from there that it was decided that rather than one frontman and a band that we'd all take turns at lead vocals and create a group instead of a single vocalists, we also thought we'd schedule a few shows just as a trio to get in rhythm and in sync with each other. Well......crowd reaction was favourable and let's just say "the rest is history", the feedback was that our sound didn't need a drummer to improve it and logistically it made sense to keep it simple and stay as a drummerless trio.

How did you get into Rockabilly and all those kind of music?
For me, Tyron, it was just a natural progression. I was raised on alot of early Elvis and Bill Haley by my mum more than my dad really, my dad was more into Neil Diamond, etc. when I was young through the 70's. But in my mid to late teens through the 80's I was listening to Talking Heads, The Smiths, etc., but I have to say it wasn't until I heard bands like The Stray Cats that were taking that early 50's sound and giving it bit of 'modern energy' and sound that my interest was sparked. From there it went like.....the 50's standards like Elvis, Eddie Cochran, Gene Vincent then I was exposed to some Teddy Boy bands from the UK and then this heavy version called 'Psychobilly' which lasted for a few years and it wasn't until I moved to Melbourne and saw local bands like Hank's Jalopy Demons, The Starliners, The Flatfoot Shakers that I started to research further back into the origins of the Rock-a-billy sounds and learn more about the original artists even going back as far as the early 40's late 30's. I now have quite a huge appreciation for a wide range flavours, from Bluegrass, early Rhythm & Blues, Hillbilly, Western Swing, Jump Blues and crossing into some Jazz and 50's / 60's Garage and yes, even still have a soft spot for some early European Psychobilly. As for the other guys, I can't speak for them but I imagine it might have been some similar influences and experiences but with slightly different timeframes and eras they were bought up in.

What are your influences / your favorite musicians? Beside the classic rockabilly artists of the 50's I also heard influences from modern bands like High Noon and Ray Condo.
For The ReChords, I guess our own tunes are heavily influenced by some of the artists we do cover like Carl Smith, Lefty Frizzel and acts like The Louvin Brothers, Stanley Brothers and even the Everly Brothers for their fabulous harmonies and I guess subconsciously there is influence from bands that you've mentioned such as High Noon, Ray Condo even Wayne Hancock but the other boys in the band haven't really heard much of these bands so it's really mainly been from listening to alot of older original artists. We're getting inspiration from early Bluegrass, Doowop, and 50's R&B as well as the Western Swing thing of course, these would have to be our biggest influences. Funny you should mention High Noon as that was probably one of the first comments we heard, probably the first band we were compared to due to the 'no drummer' rule and harmonies I guess.

What is your biggest achievement with the band so far?
The fact that we have come along way and done so much in such a short amount of time really. Most bands I've been in normally don't get a CD, let alone a full album produced until at least about 4 years or so together so to have our first album out within 12 months of forming (plus the fact we've also recorded a split compilation a few months prior to that on Press-Tone Records label out of Melbourne) is quite and achievement in itself. Plus the amount of shows we've played and the reaction that we've had has been absolutely overwhelming. And the way we work together as a trio has been fantastic.....writing together as a band with all three of us really enjoying input from everyone has been motivating, not always easy but it's the comprise and the respect we are developing and have developed that seems to be the glue holding us together.

With already two cd out - or one and one half should I say - things have moved very quickly for you...
Yep, they certainly have.....as mentioned it's been barely a over a year since we performed our first show and here I am planning our first overseas tour and contemplating our next recording session for the followup album. Sometimes I have to sit back, take a deep breath, relax then jump straight back into it......cause there ain't no time to rest.

Tell us about the guests who appear on your album...
We wanted to keep our album as much of a trio sound as possible so it was unmistakeably The ReChords but we also wanted some diversity throughout the album thus introducing a couple extra instruments and session players. We had played a show with a traditional Bluegrass band called 'Redfish Bluegrass' and had become acquainted with the fiddle player from that band, Greg Field and asked if he would kindly perform on a couple of tracks. So we added some fiddle to 'Fireball Mail', 'Take The Line' and 'It Won't Be Long'. We were also wanting and hearing some Honky Tonk / Rock'n'Roll style piano on two tracks, 'Save It' and 'Hocus Pocus' and the only man for the job was a guy I had worked with on a recording for a couple of other bands at Preston Studios in Melbourne, Steven Teakle, a great piano player and as we found out, quite the comedian. Steven has worked with many, many well known local musicians and across various music styles but was keen to take up our offer to perform on our debut album. We were also considering some Steel / Slide Guitar on the album but decided against it at the last minute as a group decision, maybe on the next album.

With bands like yours and guys like Pat Cappocci, the Salt Flat Trio, Ezra Lee, and of course the legendary Preston label, the scene seems very active in Australia.
Yeah, Australia has always seemed to have had a strong 'roots' scene and especially with genres like Rock-a-billy, Western Swing, etc. But like everywhere it's had it's high's and low's but it seems right now (well at least the last 2 or 3 years) there are quite a few new and quite talented artists and bands emerging like Pat, Danny & the Cosmic Tremors, Ezra Lee but even more that haven't had quite the same exposure. In Queensland for instance you have some great talent that has emerged since I moved away, the likes of 'Miss Teresa and Her Rhythmaires', 'Paulie & His Crazy Rhythm Boys', 'West Texas Crude', 'The Mayhem County Boys' and more. Sydney you've got the legendary 'Satellite V' who have been performing for probably over 10 years or more now (plus some of the guys you've mentioned already) and over in Adelaide, South Australia you may have heard of 'The Satellites' who have been performing also for more than 15 years. Plus we can't forget, all the way over in Perth, Western Australia you've got the likes of 'Rusty & The Dragstrip Trio' who have been doing their thing in the traditional Rock-a-billy style for many years and have toured overseas many times. And I'm sure there will be more to come.

What are your plans for the future? Any chance to see you in a weekender in Europe or USA?
Well, it just so happens as I mentioned that we are right in the middle of finalising and securing our first overseas tour which will be to Europe and we hope to include the UK into that but we'll have to wait and see. I can officially say that we are now secured to be on this years lineup for 'HIGH ROCKABILLY' in Calafell, Spain, so the tour will be incorporating Germany, Belgium, Nederlands possibly France and all around late August - early September, 2011 so stay tuned folks and check back on our Facebook & MySpace sites for further updates as the months progress. And we're really keen to produce a special vinyl release between now and August so that is something we're working towards plus more local and interstate shows to come throughout the year.

Good news! We're looking forward to see you on stage... Well, the last word is for you...
Hmmmm........all I can say is, we are looking forward to meet as many people as possible on our tour overseas and we really hope you like what The ReChords have to offer as a trio and let's hope the rockin' scene keeps getting stronger. After all, it's the music fans that help keep the bands, the music and the lifestyle alive. See you all soon!!!
More about the Rechords
www.reverbnation.com/therechords
www.facebook.com/The.Rechords
www.myspace.com/therechordsmusic

Get their album at cdbaby
www.cdbaby.com/cd/rechords