Dave 'Porky' Coates is a big guy (250lbs of joy as he says ) and he has been the frontman for Hot Rockin for the past 8 years He has also released an album with the Good Luck Charms. Porky is today the leader of a new band that he started shortly ago with the bassman Jeff Bailey (Restless, Good Luck Charms) and . Darrel Higham, one of the most well known and respected guitarists on the rockabilly scene today.
A first album "One single yellow rose"on Foot Tapping Records just came out a few ago and the band is now touring. There is no doubt that the audience will be charmed by their powerful and sharp as a knife rockabilly.
But before buying their Cd or experimenting their stage presence let's learn some more about the band. with the man himself, Dave, described by Chris Woodford in NOW DIG THIS MAGAZINE June 2001 as Mr. Personality plus
by Dave "Long Tall" Phisel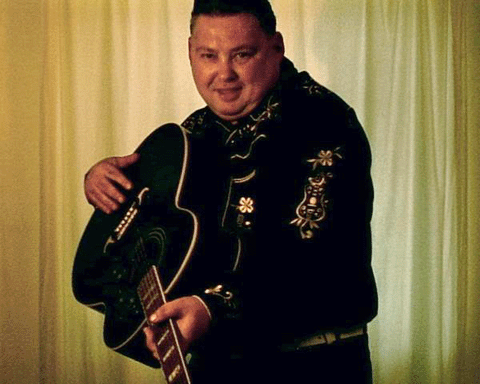 Please could you introduce to our readers?
Sure.my name is Dave 'porky' Coates and I'm playing r n r/rockabilly since I was 16 (27 years). I started a band with my brother johnny and 3 friends, Elsie(red hot and blue) Simon and Tony(bleaky and the bobcats) the group was called the 'Cruizin Comets
I've played with several bands but the popular ones are:-'porkys Hot Rockin', 'the Good Luck Charms' 'porkyandthepin-ups'.

What are your major influences and the first rock'n'roll album you ever bought?
My influences are: Charlie Feathers, Johny Horton, Billy Fury.
I love Big Sandy, he's got great stage presence and Paul Ansell (Number Nine).
As for song writing I just tell stories with music -some songs I've wrote are about me but that's one of my secrets-ha ha.
My first 1st album was Buddy Holly ("Rave On" album) and my favourite song on there was "Looking for Someone to Love".That was it!

Were you thrilled the first time you been on a stage?
Yes, west runton pavilion (north norfolk coast) with the flash cats-There was 900 people and I loved it.(sadly its gone now, all the top bands played there).

What was the most memorable gig you ever went to?
Probably with buddy's cricket's- and the comets at "the wildest cat in town" week ender watching gene's bluecaps, jack earls, and most of the sun artists.

Were your album « One Single Yellow Rose » recorded live in studio?
Yes, like all thee other four albums I've done with the Hot Rockin ( "rev it up", "we're hot"-"we're rockin", "one more star" ) and with The good luck charm's ("In ya dream's") and of course the new one with Darrel Higham and Jeff Bayly.

What are your future plans? Some gigs and festivals?
I'll still be gigging with 'Hot Rockin' at all the big weekenders, playing some gigs with Darrel to promote the album, releasing another album in a few months and I'm helping my mate Dave Palgrave to start a film company filming the rock n roll scene and local history and nostalgia. I go with David and interview some of the bands or singers, its a laugh and we meet some real interesting people-he does all the filming.

Tell us how have you met Jeff and Darrel?
I met jeff when he had a band called "Memphis" and they were looking for a singer, I joined him and together with 2 other guys called scotty roberts and "t" who was japanese we started 'the good luck charms'.
Darrel, I had seen him playing with the enforcers and we recorded for the same label (footapping records).He liked my style of writing and asked me if i would like to record an album with him using most of my material. I jumped at the chance because he is a great musician and knows what he's talking about and that's how "Porky and the Pin-Ups" started.
I plan to make another album with him, and sing 2 of my songs on a christmas album as well with groups like the 'Jets', the 'King Cats', Darrel and other groups on foot tapping records.

What do you think of the nowadays rockabilly scene and who are your favourites bands ?
Its ok but you cant beat the late 70's early 80's when we were kids and every thing was fresh and exciting with bands like Restless, the Polecats, and the Bluecats.
Modern bands I like are Big Sandy, Number Nine, Smokestack Lightning and I like the sound of Rip Carson.