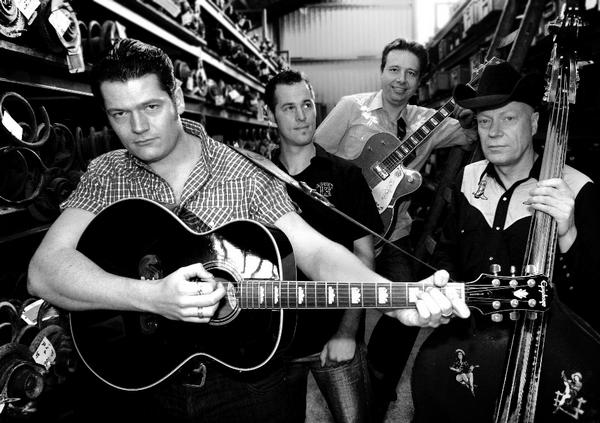 Could you introduce the band members?
Roel 'Rattlesnake' Huizinga - Doghouse Bass & Backing Vocals - 24 years old, living in Leeuwarden. Bandmember since 2008. Started playing his doghouse bass in 2007 with his first band Bopville Trio. Also singer and songwriter for his new band Hayride Silvertones.
Gert 'Gurtie' Top - Gretsch & Fender Guitars - 42 years young, living in Groningen. Bandmember since 2007. Played also in the famous rockabilly band Uncle Luke's Cousins for 15 years. He plays the guitar for almost 25 years in the so fine rockabilly style. Great fingerpicker in the style of Merle Travis, Chet Atkins en Scotty Moore.
Alje 'LJ' Mulder - Gretsch Drumkit & Backing Vocals - 29 years old, living in Leeuwarden. Bandmember since 2005. Started at young age hitting his mother's pots an' pans. Also played in some rock & roll bands like The Troublemakers.
My name is Pieter van der Bij - Vox & Rhythm Guitar - 29 years old, living in Leeuwarden. Founder of the band in 2001. Besides singin' and strummin' my flattop gitbox I also write and compose my own songs for the band. Mostly in the style of broken hearted dreams, gals, trains and HotRods.

How did you get into Rockabilly and all those kind of music?
As a child I heard songs of Elvis, Johnny Cash and Eddie Cochran. I fell in love with those great artists. I also looked at the famous TV show 'Happy Days' and was a big fan of Fonzy.
So when I discovered that there were still bands playing the good old rockabilly thing I was captured.
How and when did Highway 54 form?
When I was 20 I met a guy in a local pub. He lived not that long in our village and asked me what music I liked. I told him the rockabilly stuff. He wanted to meet and play some tunes together with me. Now we had 2 guitars but still no bassplayer. On a sunny day the neighbour looked over the fence and asked if he could play with us. A dream came true.
Now he only needed a double bass. After he bought it the band Highway 54 was born. All members were living in the same small village with only 900 habitants. So we started with only strings aboard. No drummer was added back then. We wanted to play like the Tennessee Two and Elvis his Blue Moon Boys. After 3 years we asked a drummer to give us some more power.

Does the name come from Wayne Hancock's song?
Yes, back then I fell in love with this song. So when we needed a name for our band I could only think of Hancock's song Highway 54. It sounded good!

Did you see some changes in the line-up since the beginning?
Yeah cause of work change the first bass player and guitar player got out of the band. Then we got a new experienced bass player. He played with us for 3 years and then fell in love with an American lady. He is now married in lives in Colorado. The current bass player, a good friend of mine, took over.
After the first guitar player left we asked Gert to join the band. He is a good fingerpicker and plays a good melange of the rockabilly style. We don't regret he joined us.

Who would cite as your influences?
My favourite artist is Johnny Cash and also like the Sun artists back in those days. Nowadays I enjoy Big Sandy, Rip Carson, Paladins, Carlos and the Bandidos, Darrel Higham and lot's more.

What is your biggest achievement with the band so far?
A self-written song called Free Ride Ticket Blues was enclosed in the American rockabilly cult movie 'Flyin' Saucers Rock & Roll' back in 2004. We played in England at the Rockabilly Rave, Mallorca, Norway, Germany, France, Belgium and many times at big fests in Germany.

Tell us a bit about your albums...
The first album is mostly self-written with guest appearance by Lil' Esther from Holland on Jackson. This was recorded by our first guitar player. Our second album called The Perfect Stranger is more versatile with Blues, Surf, Rockabilly and Country. This album was dedicated to our bass player who left to the States. Both records are on the Tombstone Records label.

What are your plans for the future? A new release maybe?
We are doing a project now. We play Johnny Cash songs in the Frisian language. There will be a cd and a real record. There's gonna be some Dutch Television appearances.
Next year we want to record a new album. I have written all the songs now so we are ready to go!
We are also gonna play in Finland and Tenerife this year.

The last word is for you...
Hope to see you cats and kittens in the near future. Let's drink some beers together and have a rockin' good time...

More about Highway 54
www.myspace.com/highway54
http://highway54.nl/