---
15 years of El Toro Records, 11 editions of Screamin' festival, the days must feel like they are too short! Would you do it again?
Absolutely! No matter how hard you have to work when you do what you like, I do feel fortunate, and I don't ask for more.

In an interview to "Now dig this" in March 2007, Tom Ingram defined the screamin' festival as one of the most influential festivals on the world stage. Do you take into account, as a promoter, the recognition outside of Spain that your work has?
The Screamin' Festival was the first to offer something different adding a R&R Holidays, now the formula is imitated all over the Mediterranean countries.
At that time it was very difficult to take rockin' people our of their countries to go to just another festival with an average line up when they could already get that in their own countries. So we realised we should first give people reasons to come; sun and beach was one of them but also a good mix of styles; The Screamin' is not an "only" Rockabilly weekender in which after 3 bands you're not sure who's on stage, who's next or what was the band that played 2 hours ago.
After 5 editions of the festival we had built a good base of attenders, from all over the world and from Spain, we were ready to start improving the line ups, which we have been doing ever since.
Next year we will have 30 bands of all styles of 50's R&R; 3 legends from the 50's as Sleepy LaBeef, The Comets and The Bobettes, 8 bands from the USA including Kim Lenz and Her Jaguars, Nick Curran and Little Rachel, for the first time in the same festival 4 bands from Australia, where they have a great scene which should be more known here, one band from Japan and lots of bands and DJ's from the european countries.
So, since a few years ago we are in the same league than the other weekenders and there is more people coming for the line ups and not only for the sun and beach, but most than anything they all come because it all is topped up with the party "spanish style" that can't be done anywhere else.
Please visit www.screaminfestival.com to know everything about next year's festival.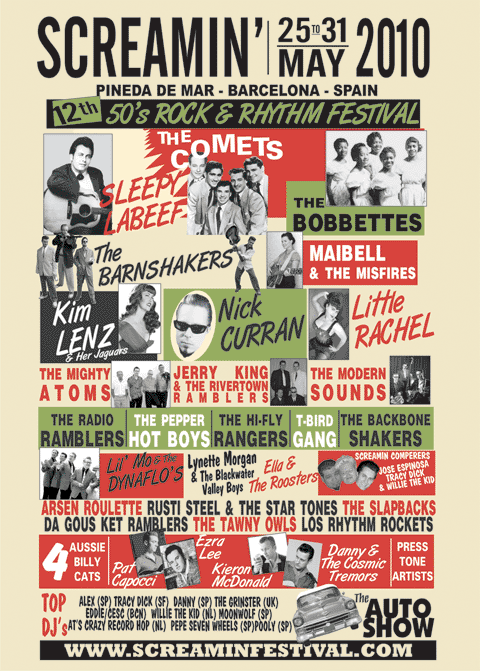 Does Bullseye, part of El Toro label dedicated to vinyl records, fulfil your expectations?
Yes, so far, Bullseye is a series in which we release just vinyl,it will take it some time untill we know if it's worth so much work but so far we are happy with how it's turning up.

I know that you are close to and work with Psychomeeting, do you see it as a complement to the Screamin' Festival?
I'm a very good friend of the Psychomeeting promotors, if that's one of the meanings of "being close to", well... to be honest they're my best friends!. As the friends we are we share our experiences with the festivals and we both take the best ideas from each other to introduce improvements according to these experiences. Then when the festivals are here we help each other, that's all. So the answer to your question is NO, I'm just one more of the many people working at the Psychomeeting.

In the catalogs of El Toro Records, Bulleyes Records or Reverb Series, one can find Spanish bands like Nuniles, Mr Whiz, The Lazy Jumpers or the Vibrants, what is your opinion on the current Spanish musical scene?
Better than ever but still very far from other countries'. There's lack of many things but the most important is that there's no ciruit for live music in Spain something that stops our scene from growing up.
Internet allows the downloading of music, which endangers the labels, but is also a significant sponsor for publicizing the festival. Do you consider it positive or negative for your different activities?
In your question is the answer; it's a matter of time that it will be positive for both activities, the different governments will soon take decisions about the illegal downloading of music which is positive for everyone except for the ones that create it.
Rock and Roll, Rhythm and Blues ... Brothers or cousins?
Brothers of course!
Any advance on the next new music from El Toro records?
We just released 13 new albums but we are specially proud of The Aces a trash rockin' blues band from the USA and "Got Them Hillbilly Blues" a compilation on CD and Double vinyl Lp about Rockabilly by black artists! You gotta check it out! www.eltororecords.com
Is Buddy Holly still your reference?
Well...He is one of my fave artists! I was the first member from Spain of Bill Brigs' Buddy Holly Memorial Society in Lubbock, TX. back in 1985 I think... Like many fans I always thought that a "complete" Buddy Holly should be released but it was never done so when we at El Toro had the oportunity we just did it ourselves and I'm proud of it!
Carlos Diaz, festival promoter, owner of El Toro Records ... have you ever had a band ?
No, I feel so much respect for the musicians on our scene that I wouldn't even try to!

One last Word ?
Thank you for the oportunity, thanks to everyone who suport us and thanks to these that take our music seriously... see you at the beach!!!

---
A few links
http://www.eltororecords.com/
http://www.screaminfestival.com/
El Toro on facebook
El Toro on Myspace
The Screamin' Festival on Myspace