I'd like to know how did a French bassist meet a British guitarist and how did they decide to form a band?
Yann: I left France for the UK to find other musicians to play with and ended up living in the city of Exeter. After trying to locate fellow musicians on our scene to play with in local gigs, I decided to put an ad in a music shop. Finding musicians in this kind of music can be pretty hardcore sometimes, you know. After 2 months, I had almost given up on the idea the ad would gather anyone interested enough to play Rockabilly, when I got this phone call from a young and enthusiastic guitarist who happened to be living 2 streets away from mine. Next day, Chris turned up with his guitar, a smile on his face and we jammed few classics to see how it'd go. I thought "this guy's got great potential", I think it kinda clicked straight away with Chris and we've been best friends ever since. I firmly believe that playing in a band not only depends on aligning yourselves musically but also having the same goals, sharing ideas and respecting each others' views. It turned out that we had the same vision of where we wanted to go, and we got lot of pleasure from playing this music.
What was the music you grew up listening to before you were old enough to choose by yourself?
Chris: Classic stuff like Elton John, The Beatles & Billy Joel. I was a big comic-book fan and so my folks bought me any records by cartoon characters, I got the Alvin & The Chipmunks version of "Achy Breaky Heart"!
Yann: My parents were a lot into 60's French Rock'n Roll, what we call "The Yé Yé" and my dad had quite a few records of Eddie Cochran, Gene Vincent and Elvis. It was therefore, quite usual to have these playing on the family Hi-Fi. I remember that Gospel and Country music were not alien from our home either.
How did you get interested in Rockabilly (and roots music in general)? What did appeal to you in that music?
Yann: In my mid-teens, I had the chance to see a "real" live rockabilly band and it was a revelation. It's not the kind of music you can hear played on every street corner in France (I confirm), unless you have close friends who regularly go to gigs and know where to find them. The Internet didn't exist at the time and my English wasn't brilliant so I didn't know that there were still bands playing this sound. Then when I saw the Stray Cats on stage in 1989 I remember realizing that so many people liked the same music as I did, it was like belonging to the same family. One gig that influenced me a lot and confirmed that roots rockabilly music was very much alive was when the Rimshots played in Lyon. Woah I didn't sleep that night! These guys really knew how to play such rhythmically infused, energetic and wild music! I guess it was a natural evolution then to go back to where the music started and that's when I discovered the greats like Charlie Feathers and all the Sun artists, Hank Williams etc. And when you start, it never ends…there are still so many great artists that I haven't discovered yet!
Chris: Well sometime after Alvin & The Chipmunks I found Link Wray and early Elvis then dug deeper into this mysterious genre that I'd always liked the sound of...'Rockabilly'. There's just something about that word, I liked it before I even knew what it was, it just sounded so great. I suppose it's the simplicity and raw energy of the music that I liked, but there's also a lot of virtuosity – those hillbilly-jazz cats could play! And of course the whole look and style of the performers attracted me; it had a showmanship that seemed missing from modern music. After going to a few rockabilly shows I became more aware of western swing and hillbilly music, and I liked the idea of mixing these styles to make something unique.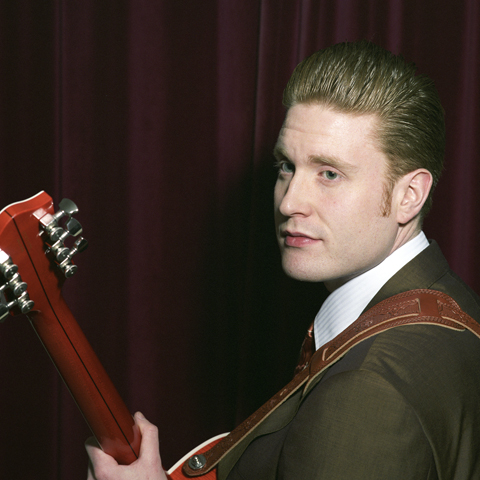 Yann I know you were in the Tawny Owls before. What about you Chris, were you in other band(s) before?
Chris: I'd only played in local bands and certainly nothing connected to roots music. When I first got Elvis' Sun sessions I thought I was the only person who'd heard of this stuff, I had no idea that a whole scene and a bunch of (not-so) underground sub-cultures existed around it. After meeting Yann he opened my eyes (and ears!) to a whole new world of undiscovered music and the floodgates opened up! I can't thank him enough, he's been a great teacher to me.

Yann you also play with the Mighty Atoms, a word about that?
Yann: A year after forming the Barons we went to a gig and met Willy Briggs who plays with Lynette Morgan and The Blackwater Boys and The Radio Ramblers. I remember seeing him on stage when the Tennessee Rhythm Riders played in France in 1997. I really loved that gig and when he asked me if I would be willing to play with him and Kevin Crowe & Martin Vowles (both members of the Wildcards and former "Nightporters"), I said yes! The Mighty Atoms is a fun band and is a mix between the more bluesy side of Mart and Kevin and the Hillbilly side brought by Willy and I.

The duo format (slap bass + guitar) is unusual. Was it a deliberate choice from the start?
Chris: Not really, I think it originated because I was the only person who answered his ad! At that time we really didn't know too many other musicians in the area and pretty soon we'd created this sound, it was really sparse and forced us to become better players to fill in those big ol' holes normally covered up by loud drummers and rhythm guitar players. It's been a great challenge trying to prove that 2 guys can make a big sound and hopefully it kinda sticks in people's minds once they've seen this two-man travellin' show!
Yann: The songs were suited for two instruments and it seemed unnatural to change for the sake of adopting the traditional Rockabilly band format. It also created a different sound, more "naked" if you like, and we believed in that difference.
You've recorded one single with a drummer (HellRico). Tell us about that record and did it change something on your playing?
Chris: Playing with a drummer definitely changes the dynamic of the band, we chose to do that because the song just seemed to ask for it. Sometimes when you're done writing a tune it kinda takes on a life of it's own and it guides you towards certain decisions...the more up-tempo rockabilly songs really sound good with simple raw drumming and 'Scorpion Woman' was perfect for that sound. Plus it was a good excuse to play with our good buddy Hell Rico (Eric Bessenay) and record at Herve Bessenay's wonderful Electrophonic Studio in France.
What about your influences?.
Chris: Well I guess we've always been pretty open-minded musicians and we're both turned on by lots of different stuff – I love great musicianship but I also love the craft of song writing, and I think it makes for much richer and more interesting music when you add different styles and put your own mark on it. I really love the early western swing groups who played incredibly complicated jazz-style arrangements, but also filled their records with a lot of spontaneity and humour. Django Reinhardt is one of those guitarists that I never get tired of listening to, Hank Williams is one of the greatest songwriters ever and I don't see any reason why you can't blend elements of all those styles together – roots music is like a big family and country and jazz are just kissin' cousins!
Yann: I believe I have similar tastes to Chris, though he might well be even more into pioneer guitarists like Merle Travis, Hank Garland etc… I sure love them and my taste ranges from the Maddox Brothers and Rose to Django Reinhardt, from Cajun music to the Andrew Sisters without forgetting great recent bands like High Noon or Imelda May.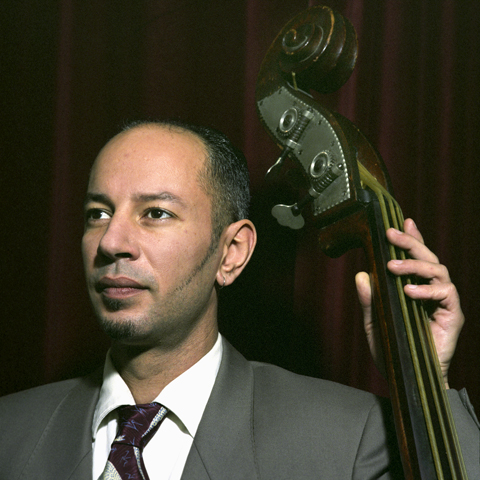 On records, you don't use overdubs or very little. Is this to be able to play on stage any songs from your songbook?
Yann: True, when we recorded our first album "The Guitar & Bull Fiddle of The Bonneville Barons", the aim was really to show what 'our' sound was and how we played, and we tried to keep it as close as possible to what people would get live.
Chris: I see recordings as a document of how the band sounded at that particular time, so we've tried to keep it as simple and honest as possible – what you hear on the record is pretty much what you'll see live. We also try not to labour the recording process too much and go for spontaneous energy rather than technical perfection - or ideally a close approximation of both! Don't get me wrong, sometimes I listen back to the recordings and wish for the odd thing to be better but I see it as an honest reflection of how we sounded and played at the time.
How did you get in touch with Alan Wilson and Western Star?
Chris: We'd heard about his label and the Western Star studio which was only an hour or two away from us, so we sent him a rough demo of the band. We also sent a copy to a radio DJ who played it on air and as luck would have it that week Alan was appearing as a guest on his show. So I think he kinda liked the demo and we booked a recording session at his studio and before the first day of recording was over he offered to release it.
How is he to work with?
Chris: Alan's just a great guy, he's been around the world with various bands (The Sharks, Colbert Hamilton) so he's seen everything from a musician's point of view, and when we have an idea he seems to know exactly what we're looking for. He's very astute technically but also he's got a great ear for melody and accentuating the essence of a song, he's a big fan of song writing and it's great to see his genuine passion and enthusiasm when we record. He's also extremely laid back and open to all of our ideas – he lets us do whatever we want, he just helps make it happen.
Yann: Working with Alan is great because he's not the kind of guy who'll impose his views on you. He's very respectful of the sound we're looking for and brings his experience to help us achieve it. He's always got a bagful of great stories each time we go to the studio, I guess it's become a ritual to start the studio sessions with lots of chatting until you realise we're actually there to record an album!
I believe you are working on a new album...
Yann: We've just come back from Western Star Studios where we spent 4 days recording and mixing it. We're really pleased with the result and I think it's our most 'complete' record.
Chris: It's going to be our 3rd CD at Western Star, we've got 13 original songs and we're really eager to release it - it seems like ages since we made the last record! We've been playing several of these new songs in our live set for the last year or so and they've become some of our most requested numbers so we hope you dig it!
A word about the video you made for "Come What May"?
Yann: We really had fun making it and like everything we do, it was a great team effort.
Chris: I think we've had more hits on youtube than on our website and myspace combined! People really seem to enjoy the video clips which is great, they're so much fun to make and "Come What May" turned out really great, it was inspired by the look of the late 40's TV shows like Ozark Jubilee & Tex Ritter's Ranch Party.

Your last word?
Yann: Thanks for inviting us to your online 'zine! We hope to see you at a gig soon!
Chris: Thanks so much for all your support, we hope you all enjoy the new record and we hope to see you real soon.

More about the Bonneville Barons on myspace and on their website.