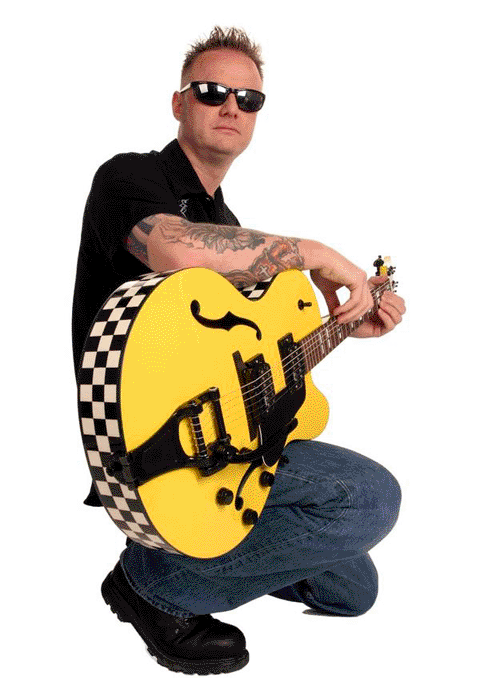 How did you get interested in music? Were your folks musicals?
Well yes they were a bit, not anything approaching professional, but both quite musical in their own way. My mum is a pretty good piano/keyboard player, she still plays at home now and reads music well. My Dad has been known to sing and play piano in pubs, that's when he was younger - but they were kind of just doing that for fun. I doubt they would consider themselves very musical.

The main thing was, that they encouraged me to play music once they saw me become interested. They bought me my first electric guitar at age 8 and were always getting me musical things for Christmas etc such as guitars or keyboards - so I had a very good start. I think I got into music on a more serious level in my early teens as a fanatical record collector. I then started to appreciate the music contained within these records and was fascinated by the guitar playing on 50's records. I also had drum lessons from the age of 12 - 16 and whilst I ended up NOT being a drummer, it was the best grounding I could have had, because without timing, you have nothing.

After the Sharks split you started to work as a studio engineer. What made you shift from one side of the glass to the other?
I was always interested in recording sound. I can remember as a teenager, modifying microphones to make them work better. I can also remember messing around with basic electronics and modifying hi-fi amps etc.

In my teens I started multi-tracking in a very basic way using two tape recorders and making (really terrible) demos at home. Then later when I finally went into real studio's

I was fascinated by the whole process. So it wasn't really a sudden switch to sound engineering - by the time I gave up playing in the Sharks, I was already recording bands at a small studio I had built in a large shed in my parents back garden. I was already hooked on recording.

According to what I've read in interviews, you don't seem to miss being on stage and the constant touring...
No I don't miss performing live. We never did really long constant tours or anything, but for a number of years it certainly felt like I was always overseas. At one time I was busy with The Sharks... I was also playing guitar in Colbert Hamilton's band and also playing in The Frantic Flintstones... so between all these busy bands, I was just always flying off somewhere, or sitting in the back of a van travelling somewhere. I just got very tired of that.

Add to this, the fact that I feel much happier behind the scenes. I don't need the spotlight. I don't crave attention. I just like to do my own thing and that's what I now do.

How did you evolve from a studio owner to a label owner. What did motive you to create Western Star?
Well over the years I have worked in many studio's. At one point in the 80's, I had my own studio called X-Ray studio. That was lost when I got divorced in the early 90's.Finally I started another of my own studio's about 10 years ago. This time it was called Western Star. At first it was in a small building next to my house. It was nice there, I loved it, and many cool records were made there. Then as the business grew we had to find larger premises and so in 2006 Western Star moved to a business park about 1 mile from it's original site. Things are going so well I am just about to take another building on the business park, in addition to my existing one, although this will mainly be for rehearsals.

When you make a record, you often put your heart and soul into it... then you hand it over to a label. Sometimes I found that hard to do because I would become attached to certain songs or recordings. So I decided that I should start my own label so that I could own some of the recordings. I am glad I made that move and my life is now focussed on building up my label and creating a credible body of work. I love to acquire copyright. I have bought back lots of rights that I had earlier assigned to other labels. I love to own music and do deals. I was always much more interested in the business side of the industry - so it's no wonder I gave up performing.
Western Star only releases stuff recorded at Western Star studios. Is that important to you? Is this a way to keep things "human"?
I wanted that to be our policy because to succeed I feel you have to have a strong identity in the market place and so that kind of our little gimmick. It gives the label a certain image and identity - kind of a home-grown, self sufficient feel.The studio still records music for other labels. Bands come here to record and then release on other labels. But, Western Star records has chosen NOT to release material that was recorded elsewhere.
How do you choose the bands you work with?
These days I am so busy I rarely get to go to weekenders etc, so mainly I 'scout' bands who come here to record. If I like what I hear in a recording session - and equally as important - if I like the people and we all get on.... then I often talk to the band about signing them. However I never poach bands from other labels. If a band comes here and they are working for another label, but are just using Western Star as a studio - then I respect that. It's a small scene and labels should all honour, help and respect each other - and I think on the whole we do.

The studio still records a lot for other labels... a few I can think of are Nervous (who are using us for pretty much the whole of this month with 2 new signings of theirs), Raucous, Pink & Black, Foot Tapping and so on.
As a producer, in what measure do you imply yourself in the sound of the artists? Can you give examples?
It's very hard to give examples.... Some bands need a lot of help, advice and encouragement... some need very little. The trick is in applying oneself as a producer at just the amount required. It's often a fine balance because I believe in allowing the band to have their own characteristics, so I'd never want to overpower or repress that. But of course, I have to help and guide if a band is perhaps not quite reaching what I believe is their full potential on a particular recording.

Do you work with session musicians too?
Yes often. I've worked with some GREAT session musicians, real legends. I learn so much from other people. Session players are often really brilliant because by the nature of their job, they have to be quick to understand idea's able to pull off a performance under time pressure.
What are your biggest sellers?
Probably our 'best selling artist' so far has been Jack Rabbit Slim - and they really deserve that title because they have worked so hard. I've enjoyed a close working relationship with them for about 5 years now. They have just recorded their 4th album for Western Star - that will be out in early 2010. You can also find them backing Dutch Rockabilly singer Sue Moreno on her new album due out any time now on Western Star. I imagine both these albums will do very well.

What is the hardest part in being a label owner?
On the whole, it is a lot of fun and quite an exciting job. But, chasing and closing down sites and people who offer our music and that of our artists for illegal downloads is probably the worst part - but I'm getting quite good at that now. Recently a group of us small Rockin' labels got together and have united against this type of theft. We are all helping one another and looking out for one another, so the worst part of the job is now getting a little better.

How do you see the future of music labels? Roy Williams (Nervous Records) is convinced that the future is in selling music, whatever form it is, rather than selling discs...
Roy has a wealth of experience and has a great instinct about this business and the way forward. He is seldom wrong! Roy has been a big help to me over the past 28 years, and I owe him a lot... I think he's right to say that, but I would also say that we're still selling a LOT of CDs.... but downloads (legitimate ones that is) are beginning to become a big part of our income as well.

Personally, I still love to release and also to buy CDs. I am of the generation that likes to hold the album in my hand, look at the sleeve and feel the weight of the product in my hand. However, my kids and others of that age are not so interested in all that as long as they can hear it on an ipod!
We are in fast changing times - that is certain.

There's a Bonneville Barons album just out which is excellent. Could you tell us about your future releases?
The Bonneville Barons are such a great band... You already know that!

In 2010 we will release albums by Jack Rabbit Slim, Sue Moreno, Bill Fadden & the Rhythm Busters, Rusti Steel and many others.
If you had the choice, who would you like to produce?
That's a hard question. I'm very happy working with the type of bands I am working with. I just started an album with Furious (for Nervous records) and they are very good, and such nice people. Most people I work with are nice to be around and I'm happy about that... So, I'm pretty content I guess.

I know that you're a huge fan of Joe Meek. How did you discover his work? What did appeal to you in his productions?
I got into Joe Meek by accident really. As a kid in the 70's I was a keen record collector and whilst I loved US Rockabilly & Rock n Roll, I also loved British records from the late 50's and early 60's. I loved records by the likes of The Tornados, John Leyton, Billy Fury and so on.

It wasn't until a few years later that I started to notice that many of the great sounding British records were produced by Joe Meek.... His productions had a kind of 'urgency' about them. So researched him a little and found a fascinating story and a wealth of amazing records... some were big hits, some not.

I have done a couple of Joe Meek tribute albums on Western Star and they have sold amazingly well. And also I have worked with a lot of the surviving original Joe Meek recording artists - I've done 3 albums with John Leyton. I love working with John, we have become great friends. Other Meek artists I have produced include Mike Berry, Clem Cattini, Ray Fenwick and also The Packabeats. This has been really great for me.
What kind of music were you listening lately?
Both my wife and I love old country. I obviously love any good rockabilly-based music. I listen to a lot of other styles, especially Ska (I love Trojan). I guess I am quite lucky as I can listen to most things that are well done.... in my job, you have to be broadminded, musically speaking.

Steve Whitehouse, your partner in the Sharks, is working on a solo album. Any chance to see a Howlin' Wilson solo album one day?
It's a nice idea, but in reality I have little time for such a project as I am just so busy recording and producing others. I'm producing Steve's solo album - and have played on a few tracks on it too. He also has a lot of 'guests' so it'll be a nice release when it's finally finished.

But, mine is quite an absorbing career and I find all my time and ideas going into other people's projects! - but that isn't a complaint. I feel very lucky to be busy in these challenging times. So, probably no solo album from me at this point! :-)
One last word?
Thanks for taking an interest in me, my studio and my label. I appreciate it.
Western Star cd's are available here.