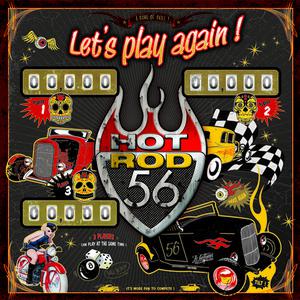 Let's Play Again

Self released
Don't Cry - Let's Play Again - Next Time I'll be True - I Like To Watch Girls - Flying Saucer Rock'n'roll - Come Back - F..... Radio - Love Always Die - Double Talkin' Baby - All Night Long - Rockbilly Boogie - Lovin' Time - Teddy Boys Never Walk Alone

Hot Rod 56 is a French Rockabilly trio and "Let's play Again" is their third album. The first one was good, the second was excellent (and both are out of print, that's a sign) but this one is even better. It's loaded with 12 killer tunes (and only 3 covers). The vocals parts are split 50/50 between Gilles (guitar) and Mickey (slap bass), two excellent musicians but if you ask me, their secret weapon is Alex their drummer who manages to hammer like no tomorrow and swings in the same time, a bit like Scott Churilla, one of the Reverend Horton Heat's drummer or Bernie Dresel in the Brian Setzer's 68 Come Back Special. Talking about Setzer, the Gretsch wizard is an obvious influence but it's not such a surprise. Like many of their generation (including me, how time flies!), they made their apprenticeship of rockabilly with the Stray Cats or Robert Gordon.
Hot & Speed was the name of their previous effort. Those words also apply to this one but you can add powerful to the list too, courtesy of the great sound that captures on disc the energy of their live set.
The set kicks off with Don't Cry a superb modern rockabilly that borders on psychobilly with a slight Roy Orbison's Domino feel in the melody. The next two numbers are in the neo-swing vein on which they are joined by a smoking horn section. Back to rockabilly with I Like To Watch Girl, but closer to the roots and the Sun sound. Talking about Sun, Flying Saucer Rock'n'Roll is the first of the three covers (the other two being Gene Vincent's Double Talking Baby and Johnny Burnette's Rockbilly Boogie), the Stray Cats never played it like that, they surely should have. The horn section returns for Come Back, a swinging tune that reminded me of 80's bands like the Stargazers or Sugar Ray Ford. After a short interlude (F***** Radio) it's time to play the B-side or its digital equivalent and what a better song than Love Always Die. This country-rocker on which Gilles' deep voice makes wonders is sure to please fans of Johnny Cash and the Planet Rockers. All Night Long is a bluesy song with a juicy sax that really made me think of the Blasters with Lee Allen (yes they are THAT good). Another rockin' blues follows, with harp, and this darn good album closes with Teddy Boys Never Walk Alone that would make Crazy Cavan proud.
If there was a justice on earth, Gilles, Mickey and Alex would tour the world and the Baseballs would be their roadies.

Buy it here
Fred "Virgil" Turgis