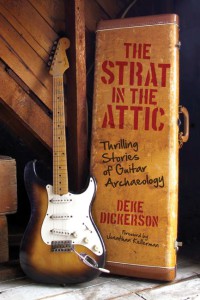 Regular writer of liner notes for Rhino, Sundazed or Bear Family, but also collaborator to the Fretboard journal, Vintage Guitar Magazine, guitarist extraordinaire Deke Dickerson presents his first book. And guess what? It's about guitars. Guitarcheology to be exact, the art of finding beautiful and rare models on flea markets, second hand stores, ads or any other way one could ever imagine.
You want to hear the stories and the often strange journeys of Bob Dylan's Stratocaster, Link Wray's Danelectro, Deke's trademark TNM guitar or Scotty Moore's Echosonic amp that was used for the recording of Mystery Train? All these stories and more from models you've never heard before are in this book.
But what makes this book so interesting is that you don't have to be a guitarist to enjoy it. You read it like you read a book about the discovery of Tutankhamun's tomb by Howard Carter (and you'll agree that you don't have to be an Egyptologist or an archaeologist- to enjoy it). It's a book about passion and the excitment of finding or just holding a rare guitar – sometimes a piece of history. Being a great storyteller Dickerson knows how to translate all those feelings into words and describe a setting very vividly.
A great book and definitely looking forward a volume 2.
Learn more about this book by reading this interview of Deke Dickerson by Dollie DeVille here.he Strat In The Attic is available almost everywhere but you can also order it directly on Deke's website and get it autographed.
Fred "Virgil" Turgis