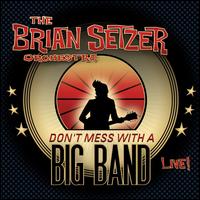 Don't Mess With A Big Band Live
Surfdog
Disc 1:
Batman - Drive Like Lightning Crash Like Thunder - '49 Mercury Blues - Good Rockin' Daddy - Your True Love - The Dirty Boogie - Sleepwalk - Honey Man - This Cat's On a Hot Tin Roof - Summertime Blues
Disc 2:
Runaway Boys - Gina - Gene & Eddie - Fishnet Stockings - Stray Cat Strut - Jump Jive an' Wail - Rumble In Brighton - Rock This Town - House is Rockin'


When Surfdog and Brian Setzer announced they would release a live recording they found in their vault it sounded interesting. But the excitement soon turned to disapointment when the show and the setlist was revealed. Taken during the last Japan tour that took place in early 2009, the double album / 19 tracks album contains once again Sleepwalk, Summertime Blues, The Dirty Boogie, Runaway Boys, Gene & Eddie, Stray Cat Strut, Rumble In Brighton and Rock This Town. Sure some of them are classics and must be in a Setzer show but why does the guitarist keep playing Gene & Eddie remains a complete mystery to me. This live was the occasion to release some unusual tracks, and you can have some regrets when you know that the band played some very rare songs during this tour like Cry Baby, Ring Of Fire, Maybe Baby, Peggy Sue, Orange Blossom Special or For Lisa with the violin and the clarinet.
Instead of that it's once again the same thing. The sole songs that are not present on any previous live recordings are Batman, Honey Man (could be good without those awful singers) Gina and The House Is Rockin.
The band itself doesn't sound very tight and the arrangements are loose especially in the trio part where the comparison with the team Winchester/Dresel is clearly not in favor of the new rhythm section. Sure the sound is good (but not exceptionnal either) but is that enough to buy this album (they could, at least, have included the full show) I let you judge.
Even the ugly cover reveals an hastily made project.

Fred "Virgil" Turgis

Wolfgang"s Big Night Out
Surfdog
Take The 5th - One More Night With You - Wolfgang's Big Night Out - Honey Man - Yes We Can Can - Swingin' Willie - Sabre Dance - For Lisa - Here Comes The Broad - 1812 Overdrive - Some River In Europe - Take A Break Guys
Note : here at JF6t6, our points of view about this album are radically different, which explains why you'll find two reviews.

Brian Setzer has widely been credited as being responsible for the revitalization of two music genres: rockabilly—as the frontman of the Stray Cats—and swing, as leader of the Brian Setzer Orchestra. When I heard of Setzer's plans to record Wolfgang's Big Night Out, an album of classical masterpieces with a big band twist, my curiosity was piqued. My exposure to the classics had been limited to hotel lobby music, Looney Tunes cartoons and my husband's collection of Robert Schumann recordings. Could Brian Setzer breathe new life into one of the oldest music styles ever?
The answer? Yes, he can.
Setzer and company take an electrified romp through a dozen classical standards, from "Take the 5th"—an adaptation of Beethoven's "Symphony No. 5" , and a fine showcase of Setzer's guitar wizardry—to "Take a Break Guys", an interesting cover of "God Rest Ye Merry Gentlemen" (think Cream playing Christmas tunes after an acid trip). Classical music novices will immediately recognize "Swingin' Willie"—a reworking of Rossini's "William Tell Overture"—as the theme from television's "The Lone Ranger". The new version screams "big band" so loudly that you'd think your grandfather had cranked up the volume on his record player.
To supplement the traditional instrumentals, Brian Setzer and crew give an interesting spin to a couple of classics with the addition of vocals. "One More Night with You", adapted from Grieg's "Hall of the Mountain King", swings with booming drums, a Setzer guitar solo and lots of horns. The remake is well constructed and so completely different from the original that one would think it to be a freshly composed song. "Honey Man", an updated version of "Flight of the Bumblebee", features BSO backup singers Julie Reiten and Leslie Spencer-Smith sharing lead vocal duties. Setzer's fingers fly in a fiery performance, possibly his best on the entire album, proof positive that Brian Setzer is one of the finest guitarists around.
While "One More Night with You" and "Honey Man" are impressive, Setzer's take on Beethoven's "Fur Elise", "For Lisa", is not. The tune consists of a violin backed by acoustic guitar and a soft drumbeat, and lacks the joy and power of the majority of the record. The signature Setzer sound is noticeably absent from the song, which would have greatly benefited from Brian just ripping it out on his Gretsch.
Although it misses the occasional step, Wolfgang's Big Night Out is a fine display of Brian Setzer's ability to adapt any music style and make it his own. Unusual, energetic and, overall, entertaining, Wolfgang's Big Night Out is a must-have for this Setzer fan.
---
Playing classical music with a non classical band is not a new idea. Bob Wills did it in the 30's with William Tell and Spade Cooley almost turned that into a trademark with tunes by Bizet (Carmen Boogie), Beethoven and Bach. More recently Dave Edmunds, known for his collaboration with Setzer during the Stray Cats days, played Bizet with Love Sculpture and later released a full classical album. This is what Setzer did too for his first non Christmas album with the Brian Setzer Orchestra since Vavoom.
And when you look at his discography in the recent years one can wonder : does Setzer run out of ideas. Two Christmas albums mainly made of covers, one tribute to Sun, one particularly uninspired " 13" , one live album and this one (again made of non-Setzer songs). The result is really weak which is sad when you know how talented this guy is. Only a few songs sound good. "Take The 5th" an adaptation of Beethoven's Symphony N° 5 is quite good with a fine swingin' rhythm, "Sabre Dance" is equally good with its arrangement taken from Edmunds' version, nothing too exceptional but at least you don't want to skip the song. By far the best one is "For Lisa" (Beethoven's Fur Elise) which is turned into a gipsy jazz ala Django with violin, clarinet and subtle brushwork. Listening to this one, Jumpin' At The Capitol and Beautiful Blues, just imagine how good a full Setzer gipsy album would sound. The other one I would save is "Take A Break Guys" (originally God Rest Ye Merry Gentlemen). It starts like a 60's spy movie soundtrack reminiscent of Lalo Shiffrin with twangy guitar then turns into a 70's exploitation movie with wah-wah pedal on the guitar.
For the rest, "Honeyman" (Flight Of The Bumblebee) with added lyrics sung by the vixens is unbearable and it's hard to resist the temptation to destroy you stereo (better skip the song), "Some River In Europe" (Blue Danube) should be a hit in every retirement house, "One More Night With You" is the only one featuring Setzer on vocals and is to be forgotten very quickly. Even when you're Brian Setzer you can't turn poor tune into first class material and there's no miracle with "Yes We Can Can" ( Offenbach 's Can Can) which evolved into a parody of New Orleans jazz.
Hopefully someone will show Setzer his own DVD of the BSO at Montreal in 1995, when BSO meant excitement and it'll give him some inspiration for his next release.
Fred "Virgil" Turgis